Health & Society
Renamed Institute on Communication and Inclusion builds on two decades of advocacy, breakthrough research
After nearly two decades of providing access to communication strategies and advocacy for people with disabilities, the Facilitated Communication Institute is taking on a new name, the Institute on Communication and Inclusion (ICI).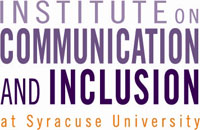 Based at Syracuse University in the School of Education since professor, and now dean, Douglas Biklen founded it in 1992, the institute has conducted research and promoted support for people with disabilities to communicate in schools and society. The new name represents a broadened focus developed over the past 20 years, reflecting lines of research, training and public dissemination that focus on school and community inclusion, narratives of disability and ability, and disability rights. Its initiatives stress the important relationship of communication to inclusion.
The following principles define the ICI's mission:
• Not being able to speak is not the same as not having anything to say; the institute adopts a "presuming competence" approach to all individuals with whom it works.
• Individuals with disabilities can inform communication practice and research.
• The goal of supported typing and other forms of augmentative and alternative communication is independent expression, controlled by the person with a disability; professional and lay supports for communication training require careful attention to quality technique to maximize the opportunity for achieving independence.
• People with disabilities have a right to participate fully in mainstream society and to have a voice.
• When one intervention strategy does not produce the hoped for results, it is not appropriate to blame the individual; it is incumbent upon the researcher or professional to seek other ways of accomplishing success.
School of Education assistant professor Christine Ashby will continue her role as research director of the institute and will guide the trajectory of the ICI research efforts and engagement projects. In addition, Ashby is overseeing the expansion of ICI staff to include several doctoral students and a part-time professional clinical position to assist with maintenance and expansion of technology resources; coordination of logistics for the training workshops; the summer institute; and provision of supports to individuals, families and schools.