Art-in-Motion presents free citywide performance Sept. 11 to highlight neighborhood creativity
Open Hand Theater, Syracuse Stage and Imagining America (IA) will present a free spectacular performance on Saturday, Sept.11, at 2 p.m. on the green in front of the Milton J. Rubenstein Museum of Science & Technology (MOST) in downtown Syracuse.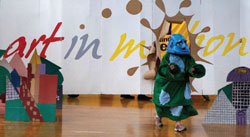 Titled "Art-in-Motion," this giant puppet performance created about the City of Syracuse features the work of neighborhood activists, artists and children from the Near Westside, the South Side, Eastwood and the North Side. Artists as diverse as painter Juan Cruz, director Jose Miguel Hernandez, puppeteer Geoffrey Navias and theater artist/clown Lauren Unbekant have worked with more than 100 volunteers and children to create this citywide performance as great entertainment for families and people of all ages.
Supported by the SU Chancellor's Leadership Project program and the New York Council for the Humanities, IA initiated the project partnering with Open Hand, Syracuse Stage and the SU Office of the Arts Presenter. With strong commitments from the South Side Community Coalition, the Spanish Action League in the Near Westside, Open Hand Theater on the North Side and Eastwood community organizers, Art-in-Motion is unprecedented in Syracuse in its role of arts participation to strengthen city neighborhoods, nurture creativity in the community, and build on the city's unique cultural heritage.
Leading up to this performance, Art-in-Motion has featured public conversations centered on activating the arts and stimulating urban redevelopment in Syracuse. On Friday, Sept.10, at 5 p.m. at The Warehouse, 350 W. Fayette St. in downtown Syracuse, the next in the series of conversations will feature Maria Rosario Jackson, senior researcher at the Urban Institute. This event is co-sponsored by CNYSpeaks.
"Art-in-Motion provides a glimpse of what participatory art offers downtown revitalization," says IA Director Jan Cohen-Cruz. "The process of creating the puppets and short scenes of neighborhood life has itself played a role in bringing residents together. Seeing a performance with people from all over the city who rarely, if ever, interact is valuable in itself. Add the pleasure of puppets and performance, and I believe we are offering an experience that Syracusans and visitors from outside the city may want to support as an annual event."
On the following day, Sunday, Sept. 12, three experts in culture and urban neighborhoods–Sandy Spieler, artistic director of In the Heart of the Beast Puppet and Mask Theatre in Minneapolis; the Urban Institute's Jackson; and Bill Aguado of the Bronx Council for the Arts–will come together for a public conversation at 2 p.m. at The Warehouse. They will reflect on the prior day's puppet performance and explore ways of using the experience to further opportunities for creative expression and urban revitalization in Syracuse. These activities aim to explore and leverage elements of a truly creative city.
IA is a national consortium of more than 80 colleges and universities committed to public scholarship in the arts, humanities and design. SU is host campus of IA until 2012.
For more information about the event, call 443-8590 or email valdepra@syr.edu. In case of rain, the Saturday 2 p.m. performance will take place at Plymouth Church, 232 E. Onondaga St. in Syracuse.