Arts & Culture
Point of Contact breaks new ground in Buenos Aires literary world with release of 'ALEJANDRA,' about the work of renowned Argentine poet Alejandra Pizarnik
Point of Contact recently presented its latest publication, "ALEJANDRA," before the literary and artistic society of Buenos Aires. The international release of this new bilingual publication, supported by The College of Arts and Sciences and the Humanities Center at Syracuse University, and by Argentine Ambassador and poet Ruben Vela–was held July 22 at the Center for Documentation, Research and Publications (CeDIP) of the prestigious Recoleta Cultural Center, in the heart of Buenos Aires.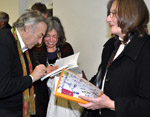 Syracuse University professor of Latin American literature and founding editor of Punto de Contacto/Point of Contact Pedro Cuperman, accompanied by guest editor and renowned linguist and poet Ivonne Bordelois and Ana Aldaburu, director of CeDIP, greeted more than 300 guests and the media at the state-of-the-art center created as an interactive space for research, documentation and publications about contemporary arts.
Other distinguished panelists included New York University/Buenos Aires professor Tamara Kamenszain and the Argentine poet Fernando Noy, who was a close personal acquaintance of Argentine poet Alejandra Pizarnik (1936-72), the subject of the book.
"We are profoundly grateful to Syracuse University for its continuous support of Point of Contact through the last three decades. The presence and prestige of this Central New York institution of higher learning is strongly felt in Latin American arts and literature," Cuperman said at the event. "This new Point of Contact bilingual edition, 'ALEJANDRA,' released today in Buenos Aires, soon to be presented on campus at Syracuse University, is the product of three years of groundbreaking research and arduous labor in editing and translation, a most significant contribution, and a work of art that we can all be proud of."
The new bilingual issue of the Point of Contact book series focuses on the life and verse of Pizarnik, who was a leading feminine voice in contemporary Latin American letters. Based on a collection of letters from young Alejandra, all unpublished until now, this significant compendium approaches Pizarnik's work through critical and visual texts, including essays by Tamara Kamenszain, Fiona Mackintosh, María Negroni, Olga Orozco, Susana Chávez-Silverman, Madeleine Stratford and Silvia Baron Supervielle. Visual texts are by Patricia Bentancur, Nayda Collazo-Llorens and Graciela Sacco.
The official release in the United States will take place on Oct. 20 at the Maxwell Auditorium on the SU campus. Co-sponsored by Point of Contact and the Syracuse Symposium, the event, including a panel discussion, is a program of the SU Humanities Center. The dialogue between guest scholars, poets and artists will focus on the essential conflict of this contemporary poet vis-à-vis her world and the existential clash faced by that generation of women.
In 1975, Punto de Contacto/Point of Contact originated a journal about the verbal and visual arts, known as Punto de Contacto first, and later as Point of Contact. In time, through the development of a successful partnership with SU, this journal, now a book series, has become a medium for some of the most relevant contemporary artists and writers around the globe; many have become long-time collaborators, co-creators and designers of a project that continues to evolve and move forward in unforeseen ways.