STEM
Silent auction of original artwork to benefit Ray von Dran Fund
From paintings, stained glass and quilts to handmade cards, jewelry and a Chinese screen, members of the Syracuse iSchool community and their friends are building up the inventory for an auction to benefit the Ray von Dran Fund.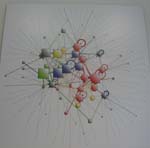 Photos of the items and information about the work and the creator can be viewed online at http://ischool.syr.edu/forever60. Among the artists are Amos Amit, Andrea Wiggins, Paula Bobrowski, Cathy Pence, Vince Petralito, Ruth Dukelow and Connie Johnson.
Bidding begins online on Monday, July 26, and ends the evening of Friday, July 30 at the Forever 60 Celebration in Hinds Hall.
The Forever 60 event celebrates the life of Von Dran, the iSchool's beloved former dean who died one week before his 61st birthday in 2007. Tickets can be purchased for a minimum donation of $100 and include a Dinosaur Bar-B-Q dinner consisting of ribs and pulled pork, beans, coleslaw and cornbread, and dessert. A vegetarian option is also available.
In addition to the auction, the event at Hinds Hall features live music by the iSchool Band, free parking, door prizes and a cash bar.
The money raised will go to the Raymond F. von Dran Fund for scholarships, research, and entrepreneurial and technological initiatives at the iSchool. For more information, visit http://ischool.syr.edu/forever60, or contact Gisela von Dran at gmvondra@syr.edu or (315) 443-2086.