Campus & Community
Spring issue of Syracuse University Magazine, with cover story on new Los Angeles semester, available now online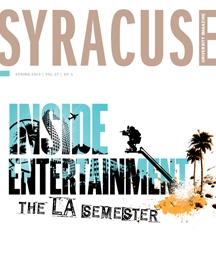 The Spring 2010 issue of Syracuse University Magazine is now available online at http://sumagazine.syr.edu.
Among the feature stories:
The University's new Los Angeles Semester program: Learn how students are connecting with alumni for internships and preparing to be the next generation of Orange, expanding the Syracuse influence in the world's entertainment capital.
The Yellow Ribbon Education Enhancement Program: More than a half-century ago, SU was among the leaders in higher education to welcome World War II veterans to the classroom. Today, SU is once again at the forefront of recognizing veterans for their service as one of the leading participants in the "New GI Bill," which provides educational benefits to post-9/11 military veterans and their dependents.
John Robinson '90: A Newhouse graduate born with congenital limb loss who has conquered challenge after challenge and is now a disability rights advocate, Robinson shares his life experiences in his inspirational memoir, "Get Off Your Knees," published by Syracuse University Press and excerpted in the magazine.
Also in this issue: a video interview with Robinson; a video of Patrick T. Mather, director of the Syracuse Biomaterials Institute, and one of his students demonstrating the process used in creating nano-sized polymeric fibers; a Web link to a dazzling 360-degree tour  of the new Orange Basketball Hall of Fame at the Carmelo K. Anthony Basketball Center; photographs of the Vancouver Winter Olympics taken by Newhouse photojournalism major Andrew Burton '10; a look at the University's interdisciplinary Forensic Science Program; profiles of students, staff, faculty and alumni; and many other stories to explore and find out what's happening at SU.