Campus & Community
Stone Canoe journal takes silver at international IPPY Awards
The 2010 issue of Syracuse University's Stone Canoe, A Journal of Arts and Ideas from Upstate New York, won a silver medal in the anthology category at the 14th annual Independent Publisher Book Awards (IPPY) celebration, May 25 in New York City. This is the third Independent Publishers medal the annual journal has won in its four years of publication.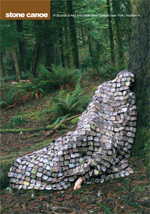 The IPPY awards, launched in 1996 to honor the year's best independently published books, recognize excellence in a broad range of subjects, from economics to erotica. This year, the 347 medal-winning books were chosen from among 3,890 entries, from 42 U.S. states, seven Canadian provinces and six other countries. 
The gold medal in the anthology category was won by James Atlas' latest book, "How They See Us: Meditations on America." Atlas, a longstanding New York Times and New Yorker writer and editor, is also known for his critically acclaimed biographies of Delmore Schwarz and Saul Bellow. "If there is a consolation for not winning the gold medal this year," says Robert Colley, editor of Stone Canoe and an associate dean at University College of Syracuse University, "it is that we are in the company of such a distinguished writer as Mr. Atlas." 
Several elite university presses were represented at the awards. Details about the complete awards competition, as well as information about the current state of independent book publishing, can be found at www.independentpublisher.com. 
The 2010 issue of Stone Canoe, dedicated to the highly regarded poet and SU teacher Hayden Carruth, features an interview with author Mary Gaitskill and showcases the work of some 90 other artists and writers with a connection to Upstate New York. In addition to poems, short stories and essays by both fledgling and experienced writers, the current issue has been broadened to include short plays, as well as book and film reviews.  
Also, for the first time this year, an e-book version of the journal is available at http://www.stonecanoejournal.org/. 
As an IPPY medal winner, Stone Canoe was also on display in a "new titles" section at the 2010 Book Expo America convention—the largest in the world—held concurrently at the Jacob Javits Center in New York. In April, the journal was also awarded a silver medal at the annual University Continuing Education Association conference in San Francisco. 
Submissions are being accepted until Aug. 30 for the fifth issue of Stone Canoe, scheduled for publication in January 2011. Submission instructions are provided on the website. Prizes are awarded for work submitted in several categories, as explained on the site. 
"As an offshoot of Syracuse University's commitment to the larger community, Stone Canoe's mission is to nurture the talent of our regional artists and writers, connect them with the ever-growing audience they deserve, and thereby communicate to the larger world the surprising richness and diversity of the Upstate New York cultural landscape," says Colley.