Campus & Community
Say Yes to Education honors Frazer School students with red carpet entrance
Eleven third-graders from Frazer School in the Syracuse City School District will walk the red carpet into Barnes & Noble Booksellers in DeWitt on Tuesday, June 15, at 2:15 p.m., to be honored for their book, "Afterschool Adventures," the first in a series of books that are part of the Say Yes to Education Young Authors Series sponsored by National Grid Foundation.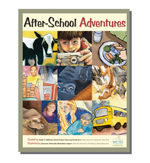 The story was written by Frazer students in the Say Yes after school program following a field trip to Whitefield Farm in Lafayette. Their words were then illustrated by Syracuse University illustration students and published, thanks to a generous grant from National Grid Foundation. The book will be sold for $10 by Barnes & Noble Booksellers in DeWitt. Proceeds from each customer's total order on the day of the event will go to the Say Yes to Education scholarship fund.
"At Say Yes to Education, we believe every child is gifted and talented. The book project is a way to ignite a child's intellectual curiosity, develop a thirst for literature and enhance their creative writing skills. How many of us can say we wrote a book and had it published when we were in third grade?" says Rachael Gazdick, executive director of Say Yes.
After the Frazer students arrive by limo to the event, Say Yes to Education founder George Weiss and National Grid Foundation board member Susan Crossett will honor the students for their work. In addition, several SU illustration students will be recognized during the event as part of the team of students that brought the story to life. Their professor, James Ransome, will also be recognized.
"The Say Yes book project was a wonderful opportunity for the participants from Frazer school and Syracuse University to learn the process of creating a book," Ransome says. "The final book is a treasure they should have for life."
Crossett explains that her organization elected to sponsor the project for the long-term value it will bring to the students and the community.
"At the National Grid Foundation, we believe that solving global problems begins at the community level," says Crossett. "We are delighted, therefore, to be supporting Say Yes to Education, an organization that helps shape tomorrow's leaders by igniting in them a spirit of inquiry and critical thinking today."
Those unable to attend the event can visit http://bn.com/bookfairs to support Say Yes to Education online from June 15-21 by entering Bookfair ID 10211969 at checkout.