iSchool's Scott Nicholson launches book, 'Everyone Plays at the Library,' with a book signing at 2010 ALA Conference
Syracuse University School of Information Studies Associate Professor Scott Nicholson launched the release of his new book, "Everyone Plays at the Library: Creating Great Gaming Experiences for All Ages" (Information Today Inc.) with a book signing at the 2010 American Library Association Annual Conference at the Washington Convention Center in Washington, D.C.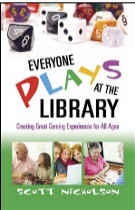 In "Everyone Plays at the Library," Nicholson shows how gaming programs can be successfully implemented in school, academic and public libraries, covering all types of games for all age groups. 
"My hope is that 'Everyone Plays at the Library' will help librarians develop gaming programs that come out of the mission of the library, as well as provide a positive gaming experience for their patrons," he says. "Gaming allows libraries to provide a storytelling-like activity for many different groups of patrons, and when they select the game type appropriately, gaming can fully support the library's mission as well." 
The content Nicholson presents in the book is geared toward support gaming in libraries of all types. Readers will discover how to determine user needs, achieve library goals, gain stakeholder approval, reach out to users, build an affordable collection of great games, assess program effectiveness, bring all ages together and create the type of memorable experience that gets users talking and keeps them coming back for more, according to the publisher. 
An educator, librarian, game designer, host of the "Board Games with Scott" video series, Nicholson also founded the Library Game Lab of Syracuse and has taught courses on gaming in libraries, including one that is available to the public via YouTube. He started the Games and Gaming Members Initiative Group for the American Library Association in 2008, gives workshops around the world about gaming in libraries and has written many articles on gaming in libraries, most of which can be found at the Library Game Lab's blog (gamelab.syr.edu/publications). 
Nicholson earned a bachelor's degree in mathematics with computer science, and a master's degree in library and information science at the University of Oklahoma, and a Ph.D. in information science from the University of North Texas. His research focuses on the intersection of games, gaming, and libraries, as well as bibliomining and web searching.