College of Law tradition continues with Res Ipsa Loquitur faculty honor
The Class of 2010 awarded College of Law Professor Robert G. Nassau the Res Ipsa Loquitur Award at the May 23 Commencement ceremony.  This award recognizes an outstanding member of the faculty for his or her service, scholarship and stewardship to the students of the College of Law.  The recipient of this award is chosen by a majority vote of the Class of 2010. 
"This is a fantastic honor, almost as great as getting to teach tax—the No. 1 subject— to our students at the College of Law," Nassau says.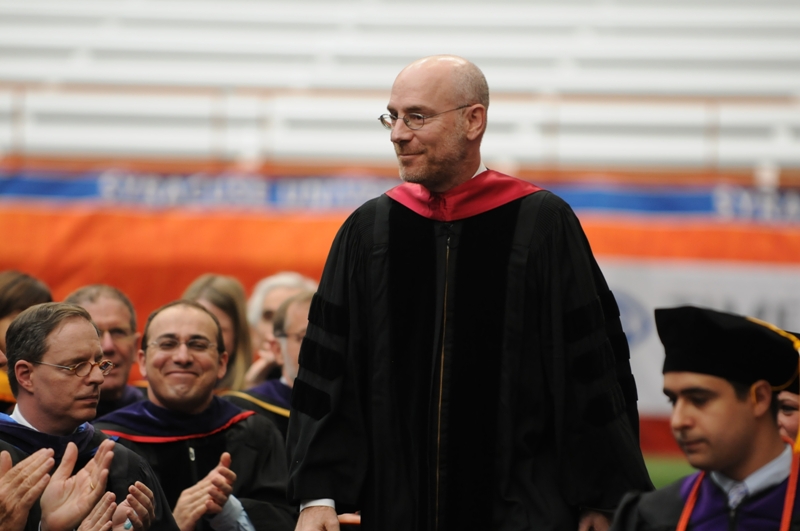 Nassau, a professor of practice and director of the Low Income Taxpayer Clinic, earned a juris doctor from Harvard University and a bachelor's degree in Japanese Studies from Yale University.  An adjunct professor at Syracuse University College of Law since 1994, he is currently of counsel with the firm of Boylan, Brown, Code, Vigdor & Wilson, L.L.P., in Rochester, N.Y. Nassau, known for his friendly demeanor and quick wit, produces a quarterly Tax Clinic Newsletter, "One Nation Under Code," for students and alumni.
Since the inception of the Res Ipsa Loquitur outstanding teaching award by the Class of 2005, each graduating class nominates and then votes on a faculty member whose service, scholarship and stewardship to students "speaks for itself."