Campus & Community
SU Project Advance Summer Institute brings 130 high school instructors to campus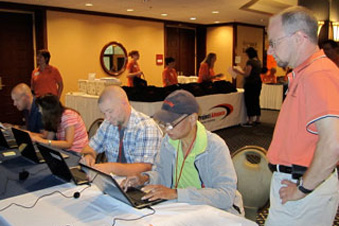 One hundred and thirty teachers from more than 69 high schools in Massachusetts, Michigan, New Jersey, New York and Rhode Island are on the Syracuse University campus attending the 2010 SU Project Advance Summer Institute, which runs through July 16. Successful completion of the summer workshops qualifies instructors to teach sections of the SU courses in their high schools during the regularly scheduled high school day.
Faculty from SU's School of Education, School of Information Studies, Martin J. Whitman School of Management, College of Arts and Sciences and L.C. Smith College of Engineering and Computer Science are offering 25 different workshops this year. Workshops focus on subject content, testing and grading standards for college courses, and additional topics related to college course administration. New workshops for 2010 include Latin, physics and Web design as teachers prepare to pilot SU's newest course offerings through Project Advance.
More than 170 high schools partner with SU through Project Advance, offering SU courses to more than 8,000 students annually.