Arts & Culture
Syracuse University to present New York City fashion show June 10; Bloomingdale's Stephanie Solomon '72 to receive Icon of Style Award
Syracuse University's College of Visual and Performing Arts (VPA) will present its annual fashion show "Vision with Action" in New York City on Thursday, June 10, at 7:30 p.m. at JPMorgan Chase, One Chase Manhattan Plaza, 60th floor. The show will feature the top collections from fashion design seniors in VPA's School of Art and Design. The college will also present the 2010 Icon of Style Award to SU alumna Stephanie Solomon '72, the operating vice president for fashion direction for women's ready-to-wear (RTW) at Bloomingdale's.
A reception will precede the show at 6:30 p.m. Tickets are $250 for benefactor level, which includes preferred seating and a gift bag; $125 for patron level; and $50 for SU alumni who graduated from '06–'10. Tickets may be purchased online at http://invite.syr.edu/vision. To purchase tickets by phone, or for more information about the event, contact April Maw at (315) 443-7095. Seating is limited.
VPA held its first New York City fashion show in 2008 to showcase the high quality of design and craftsmanship created at SU to designers and the media in New York. The college has presented an annual fashion show on the SU campus for more than 20 years.
The designs featured in the show were selected by a jury of both industry professionals and SU faculty, including Solomon; Henry Grethel, designer and SU alumnus; Kate Santiago '71, accessory designer, Kate Jung; James Horan, retail owner and fashion buyer, The Edge; Francine Emmi, corporate recruiter; MaryEllen Letterman, professor emerita, School of Art and Design; Karen Bakke, associate professor, SU School of Art and Design; and Marissa Tirone, assistant professor, SU School of Architecture.
The show will also feature a six-piece menswear collection that was sponsored and mentored by Grethel and Richard Eisenberg of Eisenberg International, a New York-based apparel manufacturer.
The college created the Icon of Style Award to honor those individuals in the fashion industry who are bold, innovative and visionary. Past recipients of the award are Grethel and SU alumna Emme, a prominent model, author, lecturer, clothing designer and women's advocate. Solomon will receive a custom-designed award from Crystal Signatures Inc. and its founder, president and director of design Peter Yenawine '69, who is also a member of the VPA Advisory Council.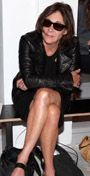 Solomon, who graduated from SU with a bachelor's degree in education, joined Bloomingdale's in 1984 as a fashion coordinator. She began in women's RTW and then covered the women's fashion accessories markets. She reported directly to the renowned Kalman Ruttenstein, who was her mentor and tutor for 23 years. Her job includes covering the twice-yearly women's fashion collection showings in New York, Milan and Paris. She also leads an RTW team that is responsible for finding the most exciting, fashion-forward merchandise for Bloomingdale's stores nationwide.
Solomon recently returned to SU to give a lecture about her career, as well as mentor the senior fashion design students. She reviewed each of the senior collections and helped each student edit his or her collection to six looks that were featured at the on-campus fashion show.
Focused on design and creative development, VPA's fashion design program offers an intellectually stimulating environment with a global perspective. This, coupled with practical and theoretical skills, technology and the study of the cultural context in which fashion exists, provides a broad-based education in fashion. In addition to Emme and Grethel, notable alumni from SU and the fashion design program include Betsey Johnson, Donald Brooks, Tom and Linda Platt, Lisa Kline and Danna Weiss.