Media, Law & Policy
Newhouse School News21 student journalists to investigate consequences of war for veterans
This summer, nine students in Syracuse University's S.I. Newhouse School of Public Communications will go "off the grid" to rural northeastern Washington state, where they will interview veterans as part of News21, an innovative multimedia journalism program sponsored by the Carnegie-Knight Initiative on the Future of Journalism.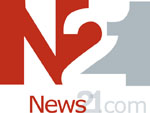 Newhouse is one of 12 academic institutions chosen to participate in the program, and this is Newhouse's second year. Newhouse's topic last year was "The Young and the Wireless."
This year's participating students enrolled in a spring class–taught by Newhouse professors Steve Davis, Bruce Strong and Ken Harper–where they researched and brainstormed potential topics for the project. The students chose to investigate how wars have affected roughly 2,000 American veterans in Washington, a location that, according to Davis, has attracted veterans "who want to live quietly" since the Vietnam War era.
Davis, chair of Newhouse's newspaper and online journalism department, explains the topic: "This idea explores the consequences of war for veterans of any conflict. Many veterans who return home suffer from depression, alcoholism, Post-Traumatic Stress Disorder (PTSD) and chronic unemployment, among other things. We hope to explore these issues."
The News21 reporters, who are a mix of undergraduate and graduate students, will leave for Washington on May 24. They will spend close to seven weeks doing in-depth investigative reporting on the ways war has impacted the veterans' lives. The students will use journalism, script writing, photography, video and audio skills to document their investigation. The Carnegie-Knight Initiative covers the cost of travel, food and lodging for the project.
The students will return to Syracuse on July 7, after which they will have until July 30 to finish their projects. Davis is currently working on a possible agreement with The Associated Press for distribution of the student-generated content.
Strong says this year's topic is an important social issue. "Students get the opportunity to produce a project with real social significance," he says. "This topic deals with an issue that will affect citizens for generations."
Amy Falkner, associate dean of academic affairs, who serves as the News21 project coordinator for Newhouse, believes the experience is an eye-opener for many students. "Lots of teamwork is involved with News21," she says. "With a mix of majors collaborating on projects, students are learning new things they may not have necessarily gravitated to had they not decided to participate in News21."
The Newhouse News21 students include broadcast and digital journalism student Michelle San Miguel; newspaper and online journalism students Matthew Nojiri and Sierra Jiminez; magazine, newspaper and online journalism students Sherri Williams and Justin Murphy; and photography students Juliette Lynch, David Miller, AJ Chavar and Kate Szrom. The Newhouse students are joined by "long-distance fellow" Kelly West, a graduate student at the University of Texas at Austin.
The students will blog about their experiences this summer on the News21 website: http://2010.news21newhouse.org.