Media, Law & Policy
Newhouse mourns passing of beloved professor, Bill Glavin, 67
Bill Glavin, longtime professor in the Newhouse School, died Friday, May 7, at Francis House in Syracuse. He was 67.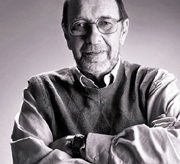 Glavin was known to his colleagues and students—and to the thousands of alumni who once sat in his classroom—as one of the most talented, most caring and best-loved professors at the Newhouse School. A former editor with Good Housekeeping, he also worked on the news desk for the Boston Globe before joining Newhouse in 1973.
His 37 years of service to the school included 15 years as chair of the magazine journalism department. His dedication to his students earned him recognition as a Meredith Professor of Teaching Excellence—Syracuse University's highest teaching honor—in the program's first year. He was author of "The Art of Writing Non-fiction" (Syracuse University Press, 1987).
In 2008, the Glavin Magazine Lab was funded and named in his honor by a former student, Stacey Mindich, and dedicated by David Remnick, editor in chief of The New Yorker. The lab is located in Newhouse 1 and serves as a hub for magazine journalism students.
Typically devoted to his students, one of Glavin's last acts was to establish the Bill Glavin Endowed Internship Fund for Newhouse students who need support in pursuing summer industry internships. According to Melissa Chessher, current chair of the magazine journalism department and friend of Glavin's who was by his side during the last weeks of his life, Glavin commented, "Please tell people that I won't need flowers or memorials where I'm going. If they want to do something to remember me, give to this fund and a student."
Funeral services will be private. A campus memorial service is being planned.
"The best way to remember and honor him will be to live your lives, love your work and write fiercely and passionately about the topics that matter most to you," said Chessher in a written message to Glavin's students, former students, colleagues and friends. "Make a difference."
Glavin's obituary can be found at http://www.syracuse.com/news/index.ssf/2010/05/syracuse_university_newhouse_c.html
A message from Glavin posted May 3 on the Friends and former students of Professor Bill Glavin Facebook page: http://www.facebook.com/topic.php?uid=108800109141874&topic=76&ref=mf
NewsHouse page: http://www.thenewshouse.com/story/tribute-bill-glavin
Contributions may be made to:
Bill Glavin Endowed Internship Fund
S.I. Newhouse School of Public Communications
215 University Place, Room 400
Syracuse NY 13244-2100
Online contributions: http://campaign.syr.edu (indicate Glavin Fund)