STEM
SU Women in Information Technology partners with nonprofit organization to support girls' education in India
Women in Information Technology (WIT), a student-led organization at the Syracuse University School of Information Studies (iSchool), recently partnered with the Syracuse Chapter of Nanhi Kali to help raise money to educate young girls in India.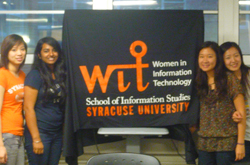 Nanhi Kali, created in 1996, is an initiative to educate underprivileged girls by providing them with direct funds for educational materials. The organization is a joint venture between K.C. Mahindra Education Trust and the Naandi Foundation, and it works with 25 non-governmental organizations in cities and villages throughout India. Currently, the program provides more than 50,800 underprivileged girls with academic and material support, such as uniforms and after-school tutoring.
Jayanthi Subramanian, a graduate student in the information management program at SU, created a Nanhi Kali Chapter in Syracuse, making it the third Nanhi Kali chapter in the United States.
Subramanian first learned about Nanhi Kali while working with Capgemini Consulting, a company that designs and integrates innovative technology solutions for organizations. Through word of mouth, Subramanian heard Capgemini employees discuss the Nanhi Kali organization and how they indirectly supported it through purchasing goods from the organization.
"Nanhi Kali's cause is close to my heart," Subramanian says. "While in India last summer, I saw a young girl run across a busy street to sell a few flowers. It gave me quite a jolt as to how difficult life can be without the right opportunity for education."
She began her initiative in October by contacting professors and student organizations, such as the Indian Students Association and WIT, to begin spreading awareness. WIT eagerly accepted the partnership because its members felt the missions of WIT and Nanhi Kali are aligned—to empower women with education.
"I feel socially responsible toward my country and creating this awareness throughout the world, where we can contribute our minor bits to improve globalization," Subramanian says.
WIT and Nanhi Kali kicked off their partnership during a recent WIT-sponsored event on internships. At the event, members began to collect funds for Nanhi Kali. Together, the executive board members of WIT and Subramanian raised $195. This money will provide one year's education to three girls in India, Subramanian says.
For each child in grade levels 1-7, the cost for one year's education is $65. For girls in grades 8-10 the cost is $85, according to the Nanhi Kali website.
Starting in the fall, WIT and Nanhi Kali will host more events to raise awareness and money for the organization.
Art Thomas, professor at the iSchool and director of the Global Enterprise Technology (GET) program, donated $65 at the WIT event, directly supporting one child's education for a year. "I envision that someday this young lady will come to the iSchool at Syracuse University, and I will meet her in my class," Thomas says.