Media, Law & Policy
Monetizing online business is focus of June media conference presented by the Newhouse School
Syracuse University's S.I. Newhouse School of Public Communications will host a major media conference this June in New York City. The Monetizing Online Business (M.O.B.) Conference will be held Thursday, June 24, from 8:30 a.m.- 5 p.m. and Friday, June 25, from 8:30 a.m.- noon at the HBO Theater, 1100 6th Ave. at 42nd Street. Registration is available online at http://mobconference.syr.edu.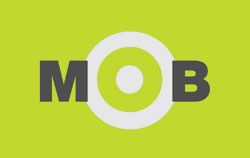 Convened by Newhouse faculty members Vin Crosbie and Steve Masiclat, the M.O.B. Conference will focus on ways to deduce entirely new, successful media business models based on the realities of 21st-century media use.
"Monetizing online media is the single biggest challenge faced by communications companies today, whether they create content, distribute it or advertise it," says Crosbie. "Few models have emerged to help media companies maintain their revenues, much less increase them. While countless past conferences have grappled with this issue, the focus has been on ways to induce traditional, nearly obsolete business models to work online. Our conference will take a different approach, looking instead at new models."
The conference will examine three key areas:
• how consumers actually use new media;
• how that usage can inform the development of new media business models; and
• what tools are needed to implement those new models.
Participants include Rafat Ali, founder and editor of paidContent; Newhouse alumnus Dennis Crowley '98, co-founder of Foursquare; Scott Karp, co-founder and editor of Publish2 Inc.; Thomas Kruczek, executive director of the Falcone Center for Entrepreneurship at Syracuse University; Adam Penenberg, assistant professor of journalism and assistant director of the business and economic reporting program at New York University; Robert Picard, media economics and business dynamics advisor and analyst; Lee Rainie, director of the Pew Internet & American Life Project; Laurel Touby, founder and senior vice president of mediabistro.com; Jason Young, CEO of Ziff Davis Media; and David Zaslav, president and CEO of Discovery Communications.
Senior media executives responsible for business strategies in online, digital and mobile media will find the event especially relevant.
For more information, contact Holly Anastasio at (315) 443-3368 or hsanasta@syr.edu, or see http://mobconference.syr.edu.