Health & Society
SU's MLAB working to raise $700,000 for New Orleans by collecting 'Fundred Dollar Bills'
The Syracuse University School of Education's Mobile Literacy Arts Bus (MLAB) and the Central New York community are working on an art initiative that aims to raise $700,000 to remove lead from the soil in New Orleans.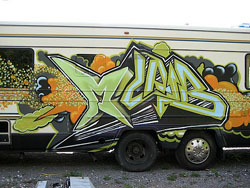 Through a national community art initiative called "The Fundred Dollar Bill Project," students in the Syracuse City School District and the North Syracuse Central School District created their own decorative, hand-drawn $100 bills and donated them to SU's MLAB, the local Fundred collection site. The MLAB is an RV that SU students renovated as a mobile, digital classroom that works with K-12 students on literacy and arts projects.
Nationally, Fundred is aiming to collect 3 million $100 bills. This summer, leaders of the national Fundred project will take the decorated bills they have collected from across the country to Congress and ask for an even exchange of real U.S. dollars. This represents a goal of $300 million for Operation Paydirt, an initiative to remove lead contamination from the soil in New Orleans.
Locally, the Fundred collection effort is being led by Marion Wilson, SU's director of community initiatives in the visual arts and coordinator of the MLAB. Jessica Posner '08 is among those helping Wilson coordinate the local effort.
"The message is so strong, as it really speaks to the power and value of art and collective action—particularly of children," Posner says. "Furthermore, lead contamination is a real problem in Syracuse, as well."
Over the past year, students at a number of area schools have created Fundred bills, including Fowler High School, Delaware Academy, Frazer School, Blodgett School, Bellevue Academy, all in Syracuse; and Smith Road Elementary School in North Syracuse. Local adults have also contributed through community events on the Near Westside and through the 601 Tully Project.
"People seem really receptive to the project, and generally really connect to the national scale of the project, and the ability to make a difference through collective action and the arts," Posner says. "It's really quite a powerful project. With each line we draw together, we attempt to heal the world."
On May 12, the official Fundred collection truck, an armored vehicle driving cross country to Fundred collection sites, will be in Central New York. The truck will visit Smith Road Elementary School in North Syracuse and Frazer School in Syracuse when it picks up the local contributions from the MLAB.
Fundreds may still be donated after May 12 by dropping them off at the MLAB or sending them to the SU School of Education, 250 Huntington Hall, Syracuse, NY 13244. SU project coordinators will send the Fundred bills to the national headquarters for inclusion in the collection.
For more on the national Fundred Dollar Bill Project and Operation Paydirt, visit http://www.fundred.org. For more on the MLAB at SU, visit http://mobileliteracyartsbus.blogspot.com.