Campus & Community
Syracuse premiere of 'Cornhole: The Movie' set for June 24 at Palace Theatre
"Cornhole: The Movie," a mock documentary that follows four cornhole teams working their way to a national championship at the fictional Hudy Center in Cincinnati, will be shown Thursday, June 24, at 7:30 p.m. at The Palace Theatre, 2384 James St., Syracuse. Actor/producer Elaine Mello-Clarke, a Syracuse native and SUNY College at Oswego graduate, will screen the film as a guest of the Syracuse International Film Festival.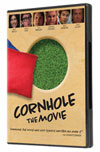 It all sounds perfectly plausible: an annual competition that rallies together a wildly diverse cast of characters all intent on the same thing: taking home the coveted Bronze Sack. Each bag they toss brings them closer to personal victory and draws the audience deeper into the wacky world of competitive cornhole. Most of this movie was filmed in the birth town of cornhole, Cincinnati.
Cornhole or corn toss is similar to horseshoes except participants use wooden boxes called cornhole platforms and corn bags instead of horseshoes and metal stakes. Contestants take turns pitching their corn bags at the cornhole platform until a contestant reaches the score of 21 points.
As a freelance producer/programmer, Mello-Clarke has worked for the Artivist Film Festival, which has featured such films as "SuperSize Me," "Born Into Brothels" and "Fast Food Nation." Her work has been seen at the Syracuse International Film Festival, the Los Angeles Film Festival, The New York Film Festival and Sundance. Clarke/Kent Pictures is the production company behind the film; Timothy Clarke is the film's writer/director/executive producer.
Tickets for the film and post-film discussion with Mello-Clarke are $10 each; $8 for seniors/students. Tickets will be available at the theater doors, which open at 6:30 p.m.
For more information on the film and to view the trailer, visit http://www.cornholethemovie.com.