Campus & Community
University Union to show advanced screening of 'MacGruber'
University Union Cinemas will present an advanced screening of "MacGruber" starring Will Forte on Sunday, May 2, at 7:30 p.m. in Gifford Auditorium in Huntington Beard Crouse Hall. The screening is open on a first-come, first-served basis to all SU students, faculty and staff.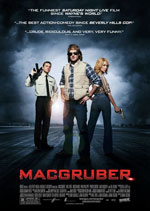 Director Jorma Taccone, "Saturday Night Live" writer and member of The Lonely Island, has teamed up with fellow "SNL" writers John Solomon and Will Forte to bring the popular sketch comedy to the big screen. Forte stars in the parody as the title character alongside "SNL" cast mate Kristen Wiig, who plays MacGruber's teammate Vicki St. Elmo. MacGruber (Forte) is determined to hunt down Dieter von Cunth (Val Kilmer), the mastermind behind a missing stolen nuclear warhead with the help of St. Elmo and Lt. Dixon Piper (Ryan Phillippe).
"MacGruber" is set to be released nationwide on Friday, May 21.
University Union is the large-scale programming organization for the entire undergraduate population at Syracuse University.