Campus & Community
Take Back the Night 2010 events begin Wednesday
The Syracuse University R.A.P.E. Center will host a series of Take Back the Night events April 7-14–including workshops, speakers and gatherings–all dedicated to ending violence in our community.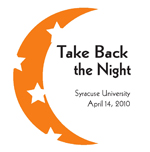 For these events, community members are invited to come together to take a stand against all violence, raise awareness about attitudes that perpetuate violence, and discuss ways to work together to make the community safer.
Statistics show one in four college-age women will experience a sexual assault by the time they have completed college. Relationship violence is a significant problem affecting members of the campus community as well as the greater Syracuse community. In an effort to end sexual and relationship violence, the SU R.A.P.E. Center has organized these events to educate community members and give them an opportunity to publicly show their support to those who have been affected by violence.
SU is working toward becoming a community of "empowered bystanders," individuals who feel empowered to take action when witnessing potentially harmful behavior. Take Back the Night is a time to celebrate the commitment and courage of those in the community who have taken the pledge to become empowered bystanders and encourage others to follow their lead. Take Back the Night spreads the message that every individual plays a vital role in making his/her community a safe and caring place to live.
Among the Take Back the Night events is a panel discussion on healthy relationships on April 7. "Recognizing the Red Flags: Working Toward Healthy Relationships" will feature a number of SU students, staff and faculty as panelists.
Students and community members will also have several opportunities, starting April 12, to pledge to not use their hands for violence. Students can visit the Hands Against Violence tables at various campus locations and take part in an "Empowered Bystander" project.
The Take Back the Night rally, featuring keynote speaker Tiffany Steinwert, dean of Hendricks Chapel, is scheduled to begin at 7:30 p.m. at Hendricks on Wednesday, April 14. SU Chancellor and President Nancy Cantor will offer welcoming remarks. The rally will be followed by a march that begins and ends at Hendricks Chapel. The speak-out will begin at 8:15 p.m. inside the chapel. The rally and march are open to the public. However, media attendance will not be permitted at the speak-out because of the sensitive nature of this event.
Following is the full list of activities:
April 7, 7 p.m., Room 500, Hall of Languages–panel discussion: "Recognizing the Red Flags: Working Toward Healthy Relationships"
April 12, 11 a.m.-3 p.m., Schine Student Center Atrium–Hands Against Violence/Empowered Bystander Project
April 12, 5-7 p.m., Goldstein Student Center–Hands Against Violence/Empowered Bystander Project
April 13, 11 a.m.-3 p.m., Schine Student Center Atrium–Hands Against Violence/Empowered Bystander Project
April 13, 11 a.m.-2 p.m., first floor, Marshall Hall, SUNY ESF–Hands Against Violence/Empowered Bystander Project
April 14, 11 a.m.-3 p.m., Schine Student Center Atrium–Hands Against Violence/Empowered Bystander Project
April 14, 7:30 p.m., Hendricks Chapel–Take Back the Night Rally, March and Speak-Out
April 15, all day–Got Consent? Campaign, University Judicial Board/Peer Education Team, wear your Got Consent? T-shirt