Campus & Community
Syracuse University to confer six honorary degrees May 16
Syracuse University will award honorary degrees to six individuals of exceptional achievement at its 156th Commencement exercises on Sunday, May 16, at the Carrier Dome. The University will bestow honorary doctoral degrees upon Elizabeth Catlett, Gerald B. Cramer '52, Claire Mintzer Fagin, Ronald Meyer, George Allen Weiss, and Jamie Dimon, chairman and chief executive officer of JPMorgan Chase & Co, who will deliver the Commencement address to the class of 2010.

Elizabeth Catlett
Doctor of Fine Arts
Elizabeth Catlett is an American sculptor, printmaker and painter known for her influential African American, Native American and Mexican art.
The granddaughter of slaves, Catlett received her bachelor's degree from Howard University in 1936 and became the first student to earn a master's degree of fine arts in sculpture at the University of Iowa in 1940. Studying under regionalist painter Grant Wood at the University of Iowa, she was encouraged by him as her mentor to present images drawn from black culture and experience.
From 1944-46, she taught at the George Washington Carver School, a community school in Harlem that provided instruction for working men and women of the city. Her experiences there generated a series of paintings, prints and sculptures with the theme "I Am a Negro Woman."
In 1946, she traveled to Mexico—where she would soon settle and marry—and created works in portrayal of the Mexican working class, while also offering art instruction. Among her teaching and academic positions, she was the first female professor of sculpture and first female sculpture department chair at the National School of Fine Arts Mexico, from 1958-73.
Catlett's most recognized and influential work came from the 1960s and '70s, when she created sculptures and prints distilling the struggles and triumphs of African American and Mexican women, including the sculpture "Homage to My Young Black Sisters" (1968). Many of her prints, valued for their affordability and accessibility to many people, illustrate famous subjects such as Harriet Tubman and Malcolm X, as well as anonymous workers—notably strong, solitary African American women—as depicted in "Sharecropper" (1968) and "Survivor" (1978). Today, her prints and sculptures, which have influenced generations of artists, are in the collections of New York's Museum of Modern Art, the Art Institute of Chicago and the SUArt Galleries, among others.
In 2005, Catlett was chosen to create the presentation print for the Print Club of New York, and her work joined the ranks of printmakers including Karl Schrag, April Gornik, Alex Katz and Will Barnet. Also in 2005, she was named the first recipient of the Legacy and Legends Award from the Art Institute of Chicago.
In 2008, her art—62 prints, drawings and collages, and 11 sculptures—was on display at Syracuse's Community Folk Art Center as part of "Power and Pride: An Elizabeth Catlett Retrospective."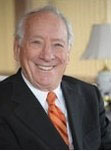 Gerald B. Cramer
Doctor of Laws
Gerald Cramer is a co-founder and chairman emeritus of Cramer Rosenthal McGlynn LLC, an investment advisory firm with close to 50 years of investment experience and more than $12 billion under management. Cramer was also associated with the investment brokerage houses of Oppenheimer & Co., where he was a senior partner, as well as Merrill Lynch.
Cramer is a 1952 graduate of the Whitman School of Management, and three of his children graduated from SU. A longtime supporter of his alma mater, Cramer has served on the executive committee of the SU Board of Trustees, served as vice chair of the board and chair of the Investment and Endowment Committee, as well as on the Board Organization and Nominating Committee. He currently serves on the Maxwell Advisory Board and was the first recipient of the Maxwell School Horizon Award, which recognizes wise, inspirational, volunteer leadership combined with exceptional philanthropic commitment.
This leadership and philanthropic commitment has been visible through numerous University initiatives that he has created or supported. In particular, Cramer has a demonstrated concern for, and strong commitment to, students who require financial sustenance—from the grade-school through college—and has generously supported various programs at SU and in the community to create and bolster new opportunities for student learning and access. At the Maxwell School, he created the Gerald B. and Daphna Cramer Fund for International Studies and Training, which provides merit scholarship awards to incoming students from around the world. He has also provided generous support to the Syracuse Say Yes to Education program, making college accessible for all students in the Syracuse City School District, and the Syracuse Responds initiative, which has financially assisted many students at SU so that they may complete their studies.
In September 2008, upon hearing the news that Syracuse would host the world premiere of "The Express," the Universal Pictures movie about SU football legend Ernie Davis, Cramer created a special opportunity for high-achieving students from the Syracuse City School District. Cramer purchased 12 $1,000 tickets to the premiere and post-premiere gala, which he then made available to the SCSD so that students could attend the premiere and all related festivities as his special guests. Students selected to attend the premiere were leaders both in and out of the classroom, with good academic standing and an interest in athletics.
Cramer has also designated support for several faculty professorships at the University and academic programs such as the Institute for National Security and Counterterrorism (INSCT) at SU, helping the University create global collaboration opportunities in the study of security and counter-terrorism
Cramer's other civic and professional commitments include membership on the board of the National Road Safety Foundation and serving as chair of the U.S. Friends of the Interdisciplinary Center—Herzliya, Israel.
At SU, Cramer has received the George Arents Pioneer Medal, the University's highest alumni honor, and the Big Apple Orange Award from SU's New York Metropolitan Advisory Board, which recognizes an alumnus' service to Syracuse and the New York City community.
He served as a lieutenant in the U.S. Navy during the Korean War and also attended the Wharton School of Business at the University of Pennsylvania.

Claire Mintzer Fagin
Doctor of Humane Letters
Claire Fagin's career has blended an interest in consumer health issues with professional health and nursing issues, and she is known for her efforts with consumers and health professionals to create a new paradigm for access and quality. 
Fagin is a consultant to foundations, developing national programs and educational institutions. She served as dean of the School of Nursing at the University of Pennsylvania (Penn) from January 1977 to January 1992. During her tenure as dean, the school developed landmark education and research programs, a privately funded research center and a Ph.D. program, and had the most faculty members of any nursing school in the American Academy of Nursing and the Institute of Medicine. At the time she stepped down from the deanship, the school was ranked No.1 by both U.S. News & World Report and in federal funding.
Fagin served as the interim president of Penn from July 1, 1993, to June 30, 1994. She assumed the interim role at a time of great turbulence, and at the conclusion of her term the University climate was extremely positive, at higher rank than at any time in its history, and had its best-ever results in fund raising. Fagin was the first woman to serve as CEO of the university and the first woman to serve a term as interim president of any Ivy League university. Presently, she is Leadership Professor Emerita and Dean Emerita at Penn.
Fagin has extensive and progressive experience in nursing, health care and educational administration, which includes teaching, practice, consultation and participation in formation of health policy in both the public and private sectors. Her doctoral thesis, published in 1966, was a study of the relationship between the recovery of hospitalized children and their parents "rooming in." This research received national attention and combined with subsequent work helped to permanently change attitudes and rules about parental visitation in pediatric facilities. Later research surveyed changes in hospital visiting, studied cost-effectiveness of nursing research and nurse practitioners, and investigated nursing home reform.
Currently, Fagin is a board member of the Visiting Nurse Service of New York and the National Senior Citizen Law Center. She is also a fellow of the American Academy of Nursing, the Institute of Medicine of the National Academy of Sciences, the Expert Panel on Nursing of the World Health Organization, and the American Academy of Arts and Sciences.
Fagin has received 13 honorary doctoral degrees and numerous alumni, civic and professional awards. In recognition of her contribution to nursing education and leadership and her influence on health care policy, Fagin received the Honorary Recognition Award of the American Nurses Association, the most prestigious honor awarded in the nursing profession. In 1998, Fagin was made "A Living Legend" by the American Academy of Nursing and received the President's Medal from New York University. In 2001, she was awarded the Nightingale Award from the American Nurses Foundation. In 2002, she was named an Honorary Fellow of the Royal College of Nursing. In 2006, the Nursing Building at Penn was named Claire M. Fagin Hall.
Fagin received a bachelor's degree from Wagner College, a master's degree from Teacher's College, Columbia University, and a Ph.D. from New York University.

Ronald Meyer
Doctor of Humane Letters
Ron Meyer was appointed president and COO of Universal Studios in August 1995.  Prior to joining Universal Studios, Meyer was president of Creative Artists Agency Inc., which he founded in 1975 with four fellow agents from the William Morris Agency. Over the years, they built the company into the pre-eminent talent agency, representing many of the industry's most influential and talented people, and later expanded its range of services to include consulting with leading American and international corporations.
Meyer is a visionary leader in the film industry. After serving in the U.S. Marine Corps, he started his professional career by working as a messenger and driver for the head of a talent agency in Los Angeles. As a young adult, he worked as a talent agent for the prestigious William Morris Agency and later Creative Artists.
Twenty years later, Meyer became president and COO of Universal Studios, for which he oversees an approximately 10,000-person operation within the divisions of film, theme parks, studio operations, home video and consumer products. In 2007, the Producers Guild of America awarded Meyer the prestigious Milestone Award for his years of service to the industry.
Although movie openings in the United States rarely are held outside of Los Angeles and New York City, Meyer gave the green light to hold the world premiere of Universal Picture's "The Express" in Syracuse. The movie tells the story of SU's Ernie Davis, the first African American Heisman Trophy winner, who broke boundaries in advancing social justice and equality. Meyer generously helped support the University and community through this event.
Meyer has been a staunch supporter of education, medical education and health care, as well as children's concerns such as Autism Speaks and UNICEF. He has made a personal commitment to supporting education both inside and outside the traditional classroom. 
Meyer is a key example of SU's efforts to engage a "community of experts" to provide opportunities for students to learn industries from the inside. His support of the University has provided invaluable opportunities for faculty and students alike through programs such as scholarships for minority students, internships at Universal, and use of space at Universal Studios for the Los Angeles Semester Programs. Meyer serves as a role model in the industry, providing real evidence that students can embark on careers that are creatively fulfilling yet make a significant contribution to the public good.

George Allen Weiss
Doctor of Humane Letters
George Weiss is the president of George Weiss Associates Inc., CEO of Weiss Multi-Strategy Advisers LLC, and founder and chairman of the national, nonprofit education foundation Say Yes to Education Inc. (Say Yes), a partnership of philanthropy, universities and public schools. 
With the belief that access to post-secondary education can truly change lives, especially for students facing enormous social and financial challenges, Weiss created the Say Yes to Education Foundation in 1987 with a promise to pay the full costs of college or vocational training for 112 students at the Belmont Elementary School, located in one of Philadelphia's most economically disadvantaged neighborhoods. Since then, the Say Yes program has grown to include more than 22,000 students in five cities.
In 2008, Syracuse Say Yes to Education was launched to provide Syracuse City School District students with a rigorous, preparatory, project-based enrichment curriculum that aligns with the district's curricula and a talent development curriculum built on students' interest. Enrichment opportunities, youth engagement activities and leadership opportunities aim to develop the talents in all children and support their physical, social and cognitive growth in a safe, supportive and nurturing environment.
Having earned a bachelor's degree at the University of Pennsylvania's Wharton School of Finance in 1965, Weiss serves as a charter trustee at Penn, as well as chairing Penn's $3.5 billion Making History fundraising campaign; he is also the vice chairman of Penn's Board of Trustees and serves on the university's athletics advisory board. He received the 1985 Alumni Award of Merit in recognition of his dedicated service to his alma mater.
Weiss has received honorary degrees from Lesley College, Colby-Sawyer College and St. Joseph's College-Maine. He has received numerous humanitarian and community service awards, including being honored by the Rabbinical College of America, the Marine Corps Scholarship Foundation (Semper Fidelis Award), the University of Hartford (Medal for Distinguished Service) and Teachers College, Columbia University (Cleveland E. Dodge Medal for Distinguished Service to Education).
He is a sixth-degree Black Belt and was a member of the U.S. National Martial Arts Team from 2002-06.
Prior to starting his own firm, Weiss was as a broker at Hornblower, Weeks, Hempill & Noyes, Bache Co., Faulkner, Dawkins & Sullivan and Shearson.

Jamie Dimon
Doctor of Laws
Named to the "2009 TIME 100″ list, Time Magazine's annual feature on the world's most influential people, Jamie Dimon is one of the most respected leaders in the financial industry, maintaining JPMorgan Chase as a global leader in financial services throughout the recent bank crisis, while demonstrating leadership focused on a sense of corporate and social responsibility.
Dimon began his financial career at American Express Co. and would go on to hold various senior executive positions at Citigroup Inc., its subsidiary, Salomon Smith Barney, and its predecessor company, Travelers Group Inc.In 2000, Dimon was named chairman and CEO of Bank One. During his four years with the company, he engineered a dramatic turnaround, taking the bank from a half-billion-dollar loss in 2000 to record earnings of $3.5 billion in 2003. Following Bank One's July 2004 merger with JPMorgan Chase, Dimon became JPMorgan Chase's president and chief operating officer. He has been president and CEO of JPMorgan Chase since December 2005 and was named chairman of the board in December 2006.
Since June 2007, JPMorgan Chase and Syracuse University have been engaged in a wide-ranging collaboration that models a new way for universities and global corporations to work together for mutual benefit and the public good. Characterized by profoundly cooperative projects that draw expertise seamlessly from both organizations, the collaboration includes a new, jointly designed academic program in Global Enterprise Technology (GET), the creation of an Extended Internship Program for students, and the launch of applied research projects that deal with important issues facing global organizations. These activities are providing faculty members with truly unique research and teaching opportunities and preparing students for the world in the world. The collaboration also is bringing hundreds of jobs to the local economy through the JPMorgan Chase Technology Center at SU, opened in October 2009. It is a multidisciplinary hub on campus where students and faculty work side-by-side with JPMorgan Chase professionals.
Dimon is a graduate of Tufts University and received an M.B.A. from Harvard Business School. He is a director of The College Fund/UNCF and serves on the board of directors of The Federal Reserve Bank of New York, The National Center on Addiction and Substance Abuse, Catalyst and Harvard Business School, and is a member of the Board of Trustees of the New York University School of Medicine.
For updated information on Commencement Weekend 2010, visit http://commencement.syr.edu.