Arts & Culture
Syracuse Stage 2010-11: Hitchcock, 'Christmas Story,' 'RENT,' August Wilson, Helen Keller, 'Clean House'
Syracuse Stage has announced its 2010-11 season, offering the world's greatest suspense writer with the Tony Award-winning "The 39 Steps," the beloved holiday classic "A Christmas Story," the landmark Pulitzer Prize-winning musical "RENT," August Wilson's lyrical and rousing "Radio Golf," the inspirational story of Helen Keller in "The Miracle Worker" and the healing power of a perfect joke in "The Clean House."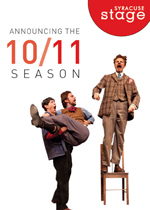 "The 2010-11 season continues the success, excitement and imagination of the current season," says Producing Artistic Director Timothy Bond. "As I get to know the community, I recognize how integral Syracuse Stage is to the cultural richness of our region, and I take great pride in bringing our country's leading theater artists to our hometown stage. From Broadway standouts to American classics to vibrant new American voices, the new season promises rewarding and fulfilling theater for your enjoyment."
Several six-play subscription packages are available and range in price from $96-$264. Special series and events are available with select packages for no additional fee. Six-play subscription packages are now available at the Syracuse Stage Box Office at (315) 443-3275 or in person at 820 E. Genesee St. Hours are Monday- Friday, 10 a.m.-6 p.m.
SEASON OVERVIEW
Alfred Hitchcock's "The 39 Steps"
Oct. 20-Nov. 7
Adapted by Patrick Barlow
Directed by Peter Amster
Gunshots, murder and dastardly plots; seductive spies, thrilling chases and serious flirtation; they're all part of this rollicking comedy/mystery and Broadway hit. Based on the 1935 classic film by Alfred Hitchcock, "The 39 Steps" follows Richard Hannay as he sets out for a night of music hall entertainment, only to be ensnared in a dangerous attempt to smuggle top-secret information out of the country. Four actors and ingenious and inventive staging prove that anything movies can do, theater can do more hilariously.
"A Christmas Story"
Nov. 30-Dec.30
Based on the motion picture by Jean Shepherd, Leigh Brown and Bob Clark
Adapted by Philip Grecian
Directed by Seth Gordon
A smoking furnace, a bully named Farkus, a pack of thieving-baying hounds, a dingblang-fuzzle-whizzin-mouthed old man, a prized leg lamp that's more leg than lamp—and a bunny suit: Is this the stuff of Christmas? It is for Ralphie, and all he really wants is a legendary official Red Ryder 200-Shot Carbine Action Range Model Air Rifle with a compass and this thing that tells time built right into the stock. Brighten the holidays with this hilarious and critically acclaimed stage adaptation of Jean Shepherd's wry and witty tale of a special Christmas past, and journey back to a time when we all had less and it felt like more.
"RENT"
A Co-Production between Syracuse Stage and Syracuse University's Department of Drama
Jan. 18-Feb. 13
By Jonathan Larson
Directed and Choreographed by Anthony Salatino
Jonathan Larson's Broadway phenomenon ignites the stage with passion and energy. One year—525,600 minutes—in the lives of seven young friends from Alphabet City brings love, loss, tragedy and triumph in a whirl of nonstop music. Larson built the show on the artists and addicts he knew in his neighborhood as they battled poverty, drugs, AIDS and the looming gentrification of their "Vie Bohème." Urban and gritty, this Tony Award- and Pulitzer Prize-winning musical brims with raw emotion and infectious enthusiasm.
August Wilson's "Radio Golf"
Feb. 23-March 13
Directed by Timothy Bond
How do we move forward without leaving behind difficult but defining aspects of our past? A powerful and timely drama from the most celebrated American playwright of this generation, "Radio Golf" tells the story of a man striving to become the first African American mayor of Pittsburgh. He's forced to weigh the importance of family, legacy, heritage and history against the truth of his political and class ambitions. Moving, funny, lyrical and rousing, "Radio Golf" is the inspiring final play of August Wilson's monumental, 10-play 20th Century Cycle and career.
"The Miracle Worker"
March 23-April 23
By William Gibson
Directed by Paul Barnes
"Once I knew only darkness and stillness … my life was without past or future … but a little word from the fingers of another fell into my hand that clutched at emptiness, and my heart leaped to the rapture of living." In her own words, Helen Keller captures the inspirational heart of William Gibson's classic American play. Between the emptiness and the rapture, though, came a fierce struggle of wills, with Helen, in her darkness and stillness, on one side, and on the other the determined Annie Sullivan, a young woman who had endured a lifetime of pain in just 20 years. Gibson's text is unsparing and unflinching in its depiction of their confrontation and mutual triumph. The hearts that will be leaping will be ours.
"The Clean House"
May 4-22
By Sarah Ruhl
Directed by Michael Barakiva
Matilde (pronounced Ma-chil-gee) has a problem: she's a cleaning lady who doesn't like to clean. She'd rather think up the perfect joke. Now that her parents (once the funniest people in Brazil) are dead—her mother died laughing—she is the funniest person in her family. Mathilde works for a doctor named Lane, who has a problem: Lane's husband, Charles, a surgeon, has found his soul mate, and it's not Lane. It's Ana, a vibrant Argentinean woman, who is dying, and that is Charles' problem. Sarah Ruhl is an exceptional playwright and MacArthur Foundation Fellow whose work has garnered Pulitzer nominations and justified recognition from Broadway to theaters across the country. "The Clean House" is one of her best–a compassionate, theatrically bold and emotionally rich comedy. The perfect joke is worth the wait.