Health & Society
Banner-raising ceremony at Roberts School on May 18 to salute Schools of Promise inclusion initiative
The Syracuse University School of Education and Syracuse City School District (SCSD) leaders will honor the staff and administration of Roberts School during a banner-raising ceremony on Tuesday, May 18, at 6 p.m. The event is free and open to the public.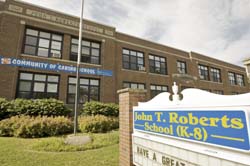 Roberts is the second Syracuse school to implement Schools of Promise, an initiative to include all students in general education classrooms, especially those children who have traditionally been marginalized, including students with disabilities, English language learners and students of color. Over the past three years, Roberts School staff and administration have worked to eliminate self-contained and pull-out classrooms for students, instead utilizing teams of teachers to plan and meet individual student needs in the general education setting.
A similar event was held at Salem Hyde Elementary School in 2007. Salem Hyde and Roberts pioneered Syracuse's Schools of Promise initiative, developed by School of Education professors George Theoharis and Julie Causton-Theoharis. Schools of Promise is currently co-directed by Theoharis, Causton-Theoharis and School of Education professor Christy Ashby.
"It's important to honor the hard work these schools have done and to recognize these efforts that are really ahead of many schools, in terms of the spirit of special education law and creating inclusive schools," Theoharis says. "This community celebration is a way to publicly acknowledge and recognize the efforts of the Roberts staff and the partnership between Roberts and SU."
Staff, parents and students from Roberts School are invited to join SCSD and SU  School of Education faculty and administrators at the banner-raising event.
For more on Schools of Promise, visit SU's Inclusion Institutes at http://www.inclusioninstitutes.org/schoolsofpromise.