Campus & Community
University Union to host advanced screening of 'Get Him to the Greek'
University Union Cinemas will present an advance screening of "Get Him to the Greek" starring Jonah Hill and Russell Brand on Wednesday, April 28, at 7:30 p.m. in Gifford Auditorium in Huntington Beard Crouse Hall. The screening is free and open to all students, faculty and staff.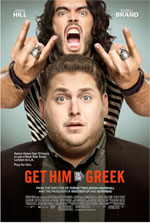 Directed by Nicholas Stoller of "Forgetting Sarah Marshall" and produced by Judd Apatow of "Knocked Up," Get Him to the Greek" is a comedy about Aaron Green (Jonah Hill), a 23-year-old record label intern, and his mission to get British rock star Aldous Snow (Russell Brand) to the Greek Theatre in Los Angeles for the first leg of his multi-million-dollar tour.
Brand brings his character Aldous Snow (from "Forgetting Sarah Marshall") back to the big screen, this time alongside Sean "P. Diddy" Combs, who plays Sergio Roma, the executive of the record label to which Snow is signed. "Get Him to the Greek" is filled with a wide range of cameo appearances, including N.E.R.D. frontman Pharrell Williams, Metallica founder and drummer Lars Ulrich and actor Tom Felton, better known as Draco Malfoy from the Harry Potter series of films. 
University Union is the large-scale programming organization for the entire undergraduate population at Syracuse University.