Media, Law & Policy
GroupM CEO Norman to visit Newhouse School April 26
Rob Norman, CEO of GroupM North America and GroupM Interaction, will visit Syracuse University's S.I. Newhouse School of Public Communications on Monday, April 26, as part of the Eric Mower Advertising Forum. He will speak at 6:30 p.m. in the Joyce Hergenhan Auditorium in Newhouse 3. The event is free and open to the public. Parking is available in SU pay lots.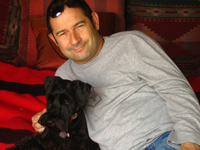 As CEO of GroupM North America, Norman oversees general management, as well as strategic and  administrative activities at each of GroupM's four media and marketing service agencies: Maxus, Mediaedge:cia, MediaCom and Mindshare. Together, they represent almost $26 billion in overall U.S. billings (RECMA). His responsibilities also include group development and synergies across all four agencies, as well as financial performance. He assumed the title last month after serving since 2007 as head of Group M Interaction, which includes the digital offerings of each GroupM agency, as well as the integrated global search organization that combines GroupM affiliates Outrider, Catalyst and 24/7 Real Media.
As CEO of GroupM Interaction, he oversees the activities of the world's largest buyer of online media with an estimated $4 billion in 2008 billings (RECMA). In this role, his principal tasks are developing the digital capabilities within GroupM while establishing thought leadership positioning in the digital space and contributing to each agency's business development.
He is a frequent keynote speaker at advertising and marketing events, and a contributor to industry publications. He was named a Media Maven by Advertising Age in 2007 and sits on the advisory board of WPP Digital, the venture arm of GroupM parent company WPP.
He has worked for more than two decades in the media agency business in a variety of increasingly senior roles, mostly at GroupM agency Mediaedge:cia, where he was named U.K. chairman in 2003. He joined the company in 1986 in London, prior to the merger, when the agency was known as CIA, after starting his career as a media assistant at Colman RSCG a year earlier. He rose quickly through the ranks at CIA, first becoming a group head and then founding the company's first joint venture media operation, which became the model for three subsequent ventures. In 2002, following the merger of CIA with Mediaedge, Norman was appointed worldwide director of new business development while also serving as worldwide CEO of Outrider. Prior to moving to the United States in January 2005, Norman was chairman of Mediaedge:cia in the U.K.
For more information, contact James Tsao at (315) 443-7362 or jctsao@syr.edu.