Arts & Culture
Columbia University scholar Dabashi to keynote 'Religion in Scholarship' symposium April 9
The Syracuse University Humanities Center will present "Religion in Scholarship," an interdisciplinary symposium exploring the changing relationship between religion and scholarly study, on Friday, April 9. The all-day symposium will take place in Room 304 of the Tolley Humanities Building and will be keynoted by Hamid Dabashi, professor of Iranian studies and comparative literature at Columbia University.
The symposium is free and open to the public. For more information, call 443-7192.
The symposium is being organized by Jonathan Singleton as a 2009-2010 SU Humanities Center Fellow. According to Singleton, this symposium aims to bring the problem of religion in scholarship into sharper focus. "In recent years, the impact of religion on global politics makes it seem almost irresponsible not to take religion into account in any scholarly discipline," he says. "But how we should deal with religion raises difficult problems. Do our assumptions of 'secularization' need to be reconsidered? Where does a critical analysis of religion slip over into bias? And how detached and objective can any humanistic enquiry be in an increasingly corporatized academy? The symposium invites scholars from many different fields to talk about the changing ways religion impinges on their scholarship."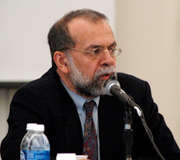 Dabashi, a committed teacher, public speaker and current affairs essayist, and a staunch anti-war activist, was born in Ahvaz in the Khuzestan province of Iran. He received his college education in Tehran before moving to the United States and earning a dual Ph.D. in sociology of culture and Islamic studies at the University of Pennsylvania in 1984, followed by a postdoctoral fellowship at Harvard University. He is currently the Hagop Kevorkian Professor of Iranian Studies and Comparative Literature at Columbia University, the oldest and most prestigious chair in his field.
Dabashi is the author of 20 books and more than 100 essays, articles and book reviews in major scholarly and peer-reviewed journals, on subjects ranging from Iranian Studies, medieval and modern Islam to comparative literature, world cinema and the philosophy of art (trans-aesthetics). A selected sample of his writing, "The World is My Home: A Hamid Dabashi Reader" (Transaction, 2010) is co-edited by Andrew Davison and Himadeep Muppidi. His books and articles have been translated into numerous languages.
In the context of his commitment to advancing transnational art and independent world cinema, Dabashi is the founder of Dreams of a Nation, a Palestinian Film Project dedicated to preserving and safeguarding Palestinian cinema. He is also chiefly responsible for opening up the study of Persian literature and Iranian culture at Columbia University to students of comparative literature and society, breaking away from the confinements of European Orientalism and American area studies.
The symposium program will also include two panel discussions featuring faculty from fields such as literature, history, religion, philosophy and anthropology. Panelists include:
Singleton, an English doctoral student in The College of Arts and Sciences;
Thomas Brockelman, professor of philosophy at Le Moyne College;
John S. Burdick, professor of anthropology at the Maxwell School;
Craige B. Champion, associate professor of ancient history and classics at the Maxwell School;
M. Gail Hamner, associate professor of religion in The College of Arts and Sciences;
Jason R. Wiles, assistant professor of biology in The College of Arts and Sciences; and
Corri Zoli of the Institute for National Security and Counterterrorism at SU.
Singleton was one of two doctoral students awarded a 2009-10 Syracuse University Humanities Center Dissertation/Thesis Fellowship.  He is working on a dissertation project, "The Suspension of (Dis)Belief: Novel and Bible in Victorian Society," which is a historical analysis of the politics of biblical quotation in Victorian literature and culture and the manner in which writers capitalized on the unacknowledged instabilities of contemporary religious discourse. Dissertations selected for the SU Humanities Center graduate fellowship show evidence of strong humanistic content and contribute to advancing one of the disciplines of study and/or creative work associated with the humanities.  Fellows meet regularly during the year to discuss their projects, lead colloquia for graduate students and faculty around their dissertation research, and participate actively in other Humanities Center research activities and events.