Arts & Culture
Palitz Gallery to present work by VPA faculty members Orentlicher, Sickler, Walter
Work by longtime Syracuse University College of Visual and Performing Arts (VPA) faculty members John Orentlicher, Michael Sickler and Barbara Ellen Walter will be presented in the exhibition "Contemporary Practices in the Arts" May 6-June 30 at the Louise and Bernard Palitz Gallery at SU's Joseph I. Lubin House, 11 E. 61st St., New York City.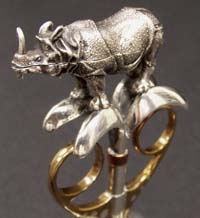 The exhibition is free and open to the public. Gallery hours are Monday-Friday, 10 a.m.-4 p.m., with evening hours available by request. Patrons should call (212) 826-0320 or e-mail lubin@syr.edu to confirm availability.
Orentlicher, Sickler and Walter are all faculty members in VPA's School of Art and Design. Orentlicher is a professor of art video in the Department of Transmedia, Sickler is an associate professor of painting in the Department of Art, and Walter is a professor and program coordinator of jewelry and metalsmithing in the Department of Art. The exhibition includes work in the media of video, film, painting, drawing, collage, jewelry and sculpture.
"Three distinct artist views project images of each artist's inner self and their interpretations of our society, such as when using the animal to project human emotions or in juxtaposing different past cultures as well as the present," writes Anja Chavez, SUArt Galleries' curator of contemporary art, in the exhibition catalog.
Orentlicher focuses on contemporary social structures, taboos and cultural traditions while juxtaposing the United States and Latin America. His work has been screened throughout North and South America, as well as in Europe and Japan. He is a two-time Fulbright Scholar and has been awarded grants from the National Endowment for the Arts and the New York State Council on the Arts. He has served as juror for the "Biennial of International Electronic Arts" in Santiago, Chile, and the "Biennial International Video Festival" at the Museo de Arte Moderno in Medellin, Colombia. He holds a master of fine arts degree from the Art Institute of Chicago.
Sickler's visual oeuvre evolved from color field painting, where thick paint, texture and tactility dominate the work. He has worked in a large variety of media and has exhibited in galleries and museums nationally and abroad. His work can also be found in more than 100 private, public and institutional collections. He has experience in television and theater, and is a nationally published poet. He has also served as an associate editor of the Comstock Review and is a member of the National Academy of Poets. He earned a master of fine arts degree at the University of Wisconsin, Milwaukee.
Walter creates utilitarian objects that address jewelry and sculpture. She also enjoys the challenge of combining puns with miniature mechanical movements. Her work has been shown nationally and internationally, and her jewelry is part of the Koch Ring Collection in Switzerland; the Renwick Gallery of the Smithsonian American Art Museum in Washington, D.C.; the Victoria and Albert Museum in London; and numerous private collections. Images of her work are included in the books "1,000 Rings" (Lark Books, 2004) and "One of a Kind: American Art Jewelry Today" (Harry N. Abrams, 1994). She holds a master of fine arts degree from Northern Illinois University.
Palitz Gallery is the SUArt Galleries' visual arts venue in midtown Manhattan. The gallery has presented a variety of notable programs, most recently "Winslow Homer's Empire State: Houghton Farm and Beyond" as well as the critically acclaimed "Michelangelo: The Man and the Myth." Past exhibitions have also included "The Elegant Salon: European Academic Paintings from the Syracuse University Art Collection" and the February 2005 presentation of films, photographs and other materials from the Maysle brothers documenting projects by Christo and Jeanne-Claude. The gallery is made possible through the support of Louise and Bernard Palitz.
For more information, contact Lubin House at (212) 826-0320 or visit http://lubinhouse.syr.edu.