Media, Law & Policy
Bloomberg, Twitter to be honored at Mirror Awards luncheon
The S.I. Newhouse School of Public Communications has announced that Bloomberg will receive the Fred Dressler Achievement Award and Twitter will receive the i-3 award for impact, innovation and influence at the fourth annual Mirror Awards luncheon ceremony June 10.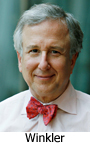 Paul E. Steiger, editor in chief and chief executive of ProPublica, will present the Dressler Award. Matthew Winkler, editor in chief of Bloomberg News, and Norman Pearlstine, chief content officer for Bloomberg, will accept the award for Bloomberg.

George Stephanopoulos, anchor of "Good Morning America" and chief political correspondent for ABC News, will present the i-3 award. Biz Stone, co-founder of Twitter, will accept the award for Twitter.
Bloomberg, a financial news and information company founded by Michael Bloomberg in 1981, is the most widely used source of information for businesses and professionals. Its core product, Bloomberg Professional, is a service terminal that provides real-time financial news, market data and analysis. Its media services–including television, radio, magazine and web outlets–cover the world with more than 2,200 news and multimedia professionals at 146 bureaus in 72 countries.
"While most media organizations have been announcing cuts and furloughs, Bloomberg continues to expand," says Joel Kaplan, the Newhouse School's associate dean for professional and graduate studies and a member of the Mirror Awards Advisory Committee, which helped choose the award winners. "The company invests in quality journalism, and the results have been readily apparent. Bloomberg now employs teams of investigative reporters doing important work covering the business and financial communities. Its Freedom of Information lawsuit against the Federal Reserve forced the secretive agency to identify those companies in its emergency lending program. With Bloomberg's recent purchase of BusinessWeek, the company is leading the way in multi-platform journalism that is destined to have an impact for many years to come."
The Fred Dressler Achievement Award is given to individuals or organizations that have made distinct, consistent and unique contributions to the public's understanding of the media.

Twitter was created by a 10-person startup in 2006. It stands today as one of the country's top social networks and serves as an important marketing tool for businesses, celebrities and even the media. Last June, in the face of widespread media censorship surrounding the presidential election in Iran, Twitter provided a channel for open, unmitigated distribution of news and information–essentially allowing for the practice of journalism without the presence of traditional media tools.
"Twitter has had a profound impact in its short life," says Brian Sheehan, associate professor of advertising in the Newhouse School and a member of the Mirror Awards Advisory Committee. "Its simplicity is its power. One-hundred-forty-character bursts of digital information over the Web have effectively turned millions of people into media channels, seemingly overnight. It has increased the power of people to communicate their ideas within small communities as well as across vast populations. From the mundane (Ashton Kutcher) to the poignant (Neda Soltan), Twitter has had global impact, simultaneously empowering individuals and threatening despots."
The i-3 award is given to individuals or organizations that have made a profound impact on the media landscape or have captured the public's imagination about the potential or importance of the media in a unique way.
The Mirror Awards luncheon will be held Thursday, June 10, from 11:45 a.m.-2:30 p.m. at The Plaza Hotel, Fifth Avenue at Central Park South, New York City. CBS News' Katie Couric will serve as emcee. Lorraine E. Branham, dean of the Newhouse School, will host the event.
In addition to the two special awards, juried awards will be presented in seven categories:
* Best Single Article, Traditional Media
* Best Single Article, Digital Media
* Best Profile, Traditional Media
* Best Profile, Digital Media
* Best Commentary, Traditional Media
* Best Commentary, Digital Media
* Best In-Depth Piece, Traditional Media
For information about sponsorship opportunities and online registration, see http://mirrorawards.com. Members of the media who wish to attend and cover the event should contact Wendy Loughlin at (315) 443-2785 or wsloughl@syr.edu.  
The Mirror Awards, established by the Newhouse School in 2006, honor the reporters, editors and teams of writers who hold a mirror to their own industry for the public's benefit.
For more information, contact Jean Brooks at (315) 443-5711 or mirror@syr.edu or see http://mirrorawards.com.