Campus & Community
2010 Mayfest unveiled on campus April 30 in Walnut Park
On April 30, a new Mayfest student celebration will take place from 1-5:30 p.m. in Walnut Park. Designed in collaboration among Syracuse University, the SU Student Association, University Union and the City of Syracuse, the event will celebrate the end of the school year and the arrival of spring with free food and beverages, live musical entertainment and a series of prize giveaways.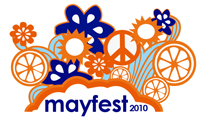 Mayfest will lead into University Union's 2010 Block Party, which will take place the same day at the Carrier Dome. Canadian hip-hop performer Drake will headline the event, which begins at 8 p.m. He will be joined by special guest N.E.R.D., who will perform at 7 p.m. Doors to the Dome will open at 6 p.m.
"Students have been working hard for months to create a day that students can enjoy," says Student Association President Jon Barnhart. "We're incredibly excited to see all of our efforts culminate in Mayfest 2010. All SU and ESF students will enjoy this great day of food, drinks and music as we celebrate the end of the year."
Beginning at 1 p.m., students can enter Walnut Park to enjoy free food and drinks, and live music by student performer Delirium, rapper XV and DJ RJD2. Students can also enter a raffle for a chance to win prizes and must be present to win. All students with a valid SU/ESF I.D. may attend, and a limited amount of beer will be available to students 21 and over at no charge (proof of age required). Only students with a valid SU/ESF I.D. will be admitted into the event and into Walnut Park.
For the safety of students and residents of the University area, throughout the day of April 30 all city ordinances will be strictly enforced by the Syracuse Police Department in the Walnut Park area and along Euclid Avenue and in East Neighborhood areas. In addition, the Syracuse Police Department will be strictly enforcing these ordinances throughout the day on April 19, the day of SU Showcase. Students cited for violations will also be subject to judicial sanctions. For more information on these sanctions, visit http://students.syr.edu/judicial/policies/handbook/section2part10.html.
In recognition of the 40th anniversary of Earth Day, SU Showcase 2010, an academic event, will focus on the theme of "sustainability." SU Showcase will feature presentations, forums and activities on topics such as global warming, environmentalism and "green jobs"; it will take place on the Quad and other locations around campus. This year, all SU/ESF classes are being held as scheduled on the day of SU Showcase. For more information on SU Showcase, visit http://sushowcase.syr.edu.  
Walnut Park is located north of Bird Library, and is bounded by Harrison Street to the north, Walnut Avenue to the east, Waverly Avenue to the south and Walnut Place to the west. The park and surrounding streets will be blocked off before, during and after the April 30 Mayfest. Information on road closures and parking will be available in the coming days. Mayfest will take place rain or shine.
Due to staffing and food needs for this event, Shaw and Brockway dining halls will be closed for dinner on April 30.