Campus & Community
La Casita film series Cine Ciclo concludes May 4 at Blodgett School with screening of 'Machuca'
La Casita Cultural Center Project will close the spring 2010 Cine Ciclo series with the screening of "Machuca" (Chile, 2004) on Tuesday, May 4, from 5:30-7:30 p.m. in the Blodgett School cafeteria, located at 312 Oswego St. in Syracuse's Near Westside neighborhood. Cine Ciclo is a Hispanic film series conceptualized and coordinated by students of Spanish from the Department of Languages, Literatures, and Linguistics in Syracuse University's College of Arts and Sciences.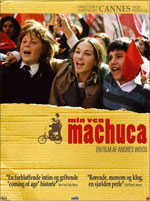 "Machuca" is a Puerto Rican film directed by Andrés Wood that explores issues of class difference among kids attending the same school against the backdrop of the military coup that overthrew the government of socialist president Salvador Allende on Sept. 11, 1973. The film will be shown in Spanish with English subtitles. Professor Inmaculada Lara-Bonilla, whose students are leading the organization of the series, proposed this engagement opportunity to her students "as a way to create spaces for cultural exploration, gain cultural competency, and enrich their interactions with the Spanish-speaking population of the city." 
Cine Ciclo started in the fall semester, when students and neighborhood residents engaged in lively dual-language conversations. Students felt that it was important for them to connect with the populations that preserve the Latino, Spanish and Latin American heritage in Central New York. 
The May 4 screening will be followed by a bilingual exchange and a reception. Refreshments will be served at the event, which is free and open to the public. Cine Ciclo is co-sponsored by Say Yes to Education at the Blodgett School.
The La Casita Cultural Center Project is an initiative committed to encouraging communication, collaboration and artistic exchange between SU and the Latino residents of Syracuse. 
For more information, contact Lara-Bonilla at 443-2247 or ibonilla@syr.edu.