Arts & Culture
Coltrane jazz series concludes with concerts by William Parker Trance Quartet and Untempered Ensemble, featuring violinist Billy Bang
The John Coltrane Memorial Contemporary Jazz Series concludes with two free concerts by world renowned artists. The William Parker Trance Quartet performs on Thursday, April 22, followed by the Untempered Ensemble, featuring violinist Billy Bang, on Wednesday, May 5. Both concerts are at 7 p.m. in the Community Folk Art Center's Black Box Theater-Dee Davis Room, 805 E. Genesee St., Syracuse.
Coordinated by William Cole, professor and chair of the Department of African American Studies (AAS) in Syracuse University's College of Arts and Sciences, the series is sponsored by the Office of the Chancellor, the Department of African American Studies and the iLearn Program in The College of Arts and Sciences.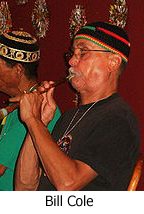 "These concerts honor the spirit of John Coltrane by celebrating avenues of expression in jazz, rock and the avant-garde," says Cole, who is retiring in June after an illustrious 40-year career in academia. "Audiences will delight to the music of William Parker and Billy Bang, both of whom are leaders of the 'free jazz' movement." "Free jazz," which relies heavily on experimentation and collective improvisation, evolved in the 1950s in response to the fixed tempos and chord changes of Be Bop.
Parker is best known as the former bassist of the Cecil Taylor Unit. His 40-year career includes stints with trumpeters Don Cherry and Bill Dixon, and with drummers Ed Blackwell, Milford Graves and Sunny Murray; more than 20 solo albums; and compositions of varying styles, including operas, oratorios, ballets, film scores and soliloquies for solo instruments. His quartet includes Cole (double reeds and digeridoo), Steve Baczkowski (saxes, winds and digeridoo) and Ravi Padmanabha (drums and percussion).
Founded by Cole in 1992, the Untempered Ensemble is a seven-piece group specializing in the avant-garde. The group has released half a dozen albums to critical acclaim and is an annual headliner at the Vision Festival in New York City. In addition to Cole, the ensemble consists of Shayna Dulberger (bass), Warren Smith (vibraphones, drums and percussion), Joe Daley (tuba and euphonium), Ras Moshe (alto sax), Atticus Shadrack Cole (drums) and Althea SullyCole (vocals). They are joined by Bang (violin), a former member of the Sun Ra Arkestra, who co-founded the String Trio of New York in 1977.
Cole is artistic director of Shadrack Inc., a multicultural organization that supports artists of color. As a performer, he has worked with such luminaries as saxophonists Ornette Coleman and Julius Hemphill, guitarist James "Blood" Ulmer and poet Jayne Cortez. Cole specializes in Asian double reed horns, including Chinese sonas, Korean hojok and piri, and Indian shenai and nagaswarm, as well as Ghanaian bamboo flute, Tibetan trumpet and digeridoo. He is the author of "Miles Davis: The Early Years" (Da Capo Press, 1973), "John Coltrane" (Da Capo Press, 1976) and "Miles Davis: A Musical Biography" (Morrow Quill Paperbacks, 1980).
More information about the series is available by calling AAS at (315) 443-4302.