2009 viewbook garners Graphic Design USA's 2010 American Inhouse Design Award
Syracuse University's redesigned 2009 viewbook has been recognized with Graphic Design USA's 2010 American Inhouse Design Award. More than 4,000 entries were submitted from all across the country and various industries, and a highly selective 15 percent were recognized with an award. The SU viewbook won in the Publications category.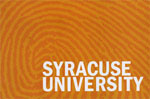 The American Inhouse Design Awards is the original and premier showcase for outstanding work by inhouse designers. For many years, it has provided a unique opportunity for inhouse design, marketing and communications departments to be recognized for their talent and for their contributions to their businesses and institutions.
Designed for prospective undergraduate students, the new viewbook is part of a comprehensive rebranding effort undertaken by SU's Division of Enrollment Management, which includes a new positioning statement ("Make Your Mark"), overall design (orange fingerprint), and subsequent redesign of the prospectus, international prospectus, spring reception materials, admissions videos and more. New elements will continue to be rolled out over the next year as part of the ongoing effort to convey compellingly to prospective students the breadth, depth, timeliness and impact of SU's distinctive vision, Scholarship in Action.
Production of the viewbook was a collaborative effort of the Office of Admissions, as part of the Division of Enrollment Management, and the Publications Office, as part of the Division of Public Affairs.
Graphic Design USA is a monthly news and information magazine for and about the professional design community, including graphic design firms, corporate inhouse departments, advertising agencies and multimedia development firms.