Health & Society
Hillel of Syracuse University sponsoring Gift of Life Bone Marrow Registration Drive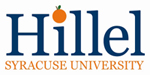 Hillel at Syracuse University has scheduled a Gift of Life Bone Marrow Registration Drive for Thursday, April 15. The registration process takes about two minutes and consists of a simple swab of the inside of the mouth. Student volunteers will be set up to register students at multiple campus locations, including the Whitman School of Management building from 11 a.m.-4 p.m., and Archbold Gymnasium, Brewster Hall, Day Hall, Ernie Davis Hall and Sadler Hall from 4-9 p.m. The goal of the student-run drive is to add new registrants to the bone marrow donor database and raise awareness for the need to maintain and grow bone marrow donor lists.
For many, the only hope for a cure for life-threatening disease is through a bone marrow, blood stem cell or umbilical cord blood transplant. One in 200 Americans receives such a transplant in their lifetime.
Headquartered in Boca Raton, Fla., Gift of Life is one of the nation's public bone marrow, blood stem cell and umbilical cord blood registries. Gift of Life is a world leader in the facilitation of transplants for children and adults suffering from many life-threatening diseases. These diseases include both leukemia and lymphoma. Gift of Life is an associate donor registry of the National Marrow Donor Program and a member of the Bone Marrow Donors Worldwide registry. Gift of Life was the first organization to utilize buccal swab testing (a cotton swab of the inside of the participant's cheek) routinely at donor recruitment drives such as the one organized at SU.
Historically, Gift of Life focuses on the registration of Jewish volunteers of Ashkenazi and Sephardic ancestry because both minority groups are underrepresented in the worldwide donor pool. The tragic consequences of the Holocaust have caused difficulties for patients of Eastern-European Jewish ancestry, with potentially severed blood lines, to find matches.
The 2010 drive is Gift of Life's third visit to Syracuse. Lillian Baharestani, an SU alumna, brought the first Gift of Life donor drive to campus in 2004. Gift of Life returned to campus in 2007 with a recordbreaking "You Got Swabbed" campaign that successfully registered more than 1,110 students, faculty and staff. The 2007 campaign at SU was Gift of Life's largest student-run drive ever.
An additional drive, organized by student volunteers, will be held on Sunday, May 2, from 9 a.m.-noon at Temple Concord in Syracuse.