Media, Law & Policy
Bengali group to perform at Hendricks Chapel April 20
GANGA, a Bengali folk music group, will perform traditional Indian folk music on Tuesday, April 20, at 7:30 p.m. in Hendricks Chapel. The group appeared on the American folk scene in 1984 and has since performed extensively in the United States and in international folk festivals around the world. The South Asia Center—part of the Maxwell School's Moynihan Institute of Global Affairs—is sponsoring the event, which is free and open to the public.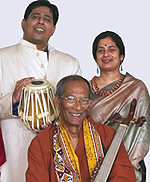 GANGA's music reflects the Bengal region's history and the hundreds of folk traditions in India that are part of an extraordinary oral tradition dating back several thousand years. Its name is derived from the sacred river Ganges. Its songs grew from the lush green countryside, from the foothills of the Himalayas where elephants and people live together, from the 19th-century tea plantations that once reduced tribal groups into bonded labor, and from the minds of the people seeking a path to the divine. The rivers of Bengal seem to have been an especially fertile ground for songs sung by peasants and boatmen, and all have added to the richness of the Bengali musical tradition that GANGA will share on April 20.
GANGA's instruments were crafted by villagers. They are the Dotara, a four-stringed member of the lute family; Harmonium, a South Asian adaptation of a small keyboard; Sitar; Tabla (India's most popular hand drums); and brass cymbals.