Media, Law & Policy
Families of Civil Rights Era murder victims come together for SU Cold Case Justice Initiative event in Atlanta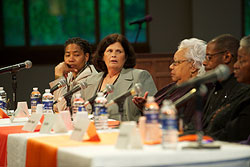 Syracuse University College of Law's Cold Case Justice Initiative (CCJI) held a series of activities this past Friday and Saturday in Atlanta for the families of victims of unsolved murders in Mississippi and Louisiana dating back to the Civil Rights Era.
The feature event Saturday was a panel discussion at Atlanta's Ebenezer Baptist Church, which was followed by a free concert by Grammy Award nominee Mavis Staples.
The "Never Too Late for Justice" events were organized by CCJI co-directors Paula C. Johnson, SU professor of law, and Janis McDonald, the Bond, Schoeneck & King Distinguished Professor in the SU College of Law.
For more on the event, see https://news.syr.edu/2010/04/14/mavis-staples/. 
Media coverage of the event: