Health & Society
University of London's Buckingham to present School of Education's Harry S. and Elva K. Ganders Lecture April 8
The Syracuse University School of Education will welcome David Buckingham, professor of education at the University of London, for the 2010 Harry S. and Elva K. Ganders Distinguished Lecture on Thursday, April 8, at 4 p.m. in the Public Events Room (Room 220) in Eggers Hall.
Buckingham's lecture, "Children as Consumers, Children as Learners: Markets, Inequality and Public Space," will also conclude the School of Education's Landscape of Urban Education lecture series for the year. The lecture is free and open to the public.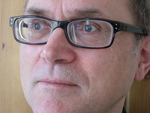 Buckingham directs the Centre for the Study of Children, Youth and Media at the Institute of Education, University of London. His research focuses on children's and young people's interactions with electronic media and on media education. He is currently working on two major research projects, one about the role of the Internet in young people's civic participation and the other about learning progression in media education. He also recently led an independent assessment for the UK government on "the impact of the commercial world on children's well-being." He has lectured in more than 25 countries, and his work has been published in more than 15 languages.
He is the author, co-author or editor of 24 books, including most recently "Beyond Technology" (Polity, 2007), "Youth, Identity and Digital Media" (The MIT Press, 2008) and "Video Cultures: Media Technology and Amateur Creativity" (Palgrave Macmillan, 2009).
"In my estimation Dr. Buckingham is one of, if not the, pre-eminent scholar regarding media education in schools, and one of the most prolific writers on this subject," says Jeffery Mangram, SU assistant professor of teaching and leadership. "He is an entertaining speaker, and his analysis is critical and informed by the latest research, which he is on the cutting edge of. I am eager to engage him."
For almost 20 years, the Ganders Lecture Series has celebrated the legacy of Harry S. Ganders, the first dean of the School of Education. Ganders' tenure as dean (1930-52) is characterized as one of transition, growth and innovation, and saw the creation of an all-University structure for the School of Education. The series is generously supported by alumni and other contributions to the Harry S. and Elva K. Ganders Memorial Fund.
Since 2005, the Landscape of Urban Education Lecture Series has presented current ideas and strategies for navigating urban educational terrain in the United States. Sixteen speakers have been engaged for this series, all of whom are well renowned scholars committed to revitalizing inclusive urban education. Lectures are free and open to the public.
For more information on the Landscape of Urban Education lectures, visit the School of Education's Center for Continuous Education and Global Outreach.