Arts & Culture
African American Studies colloquium features NYU professor speaking on Chicago's overlooked black arts movement
Everyone has heard of the Harlem Renaissance. However, many people are unaware of Chicago's black literary movement, which flourished after Harlem ceased to be "in vogue." Associate professor Jacqueline Goldsby, who is visiting New York University's English Department from her base at the University of Chicago, explores the Chicago scene in her lecture "A Salon for the Masses: Black Reading Circles & the Chicago Renaissance" on Wednesday, April 7, at 4 p.m. in Maxwell Auditorium.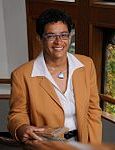 The presentation is based on Goldsby's research into "the cool" in the 1940s and 1950s. It is also linked to her project "Mapping the Stacks: A Guide to Black Chicago's Hidden Archives" (http://mts.lib.uchicago.edu).   
Goldsby was featured in The New York Times (May 26, 2009) for uncovering and preserving valuable historical materials about black life in Chicago. (See http://www.uchicago.edu/features/20090527_library.shtml). She is the prize-winning author of "A Spectacular Secret: Lynching in American Life and Literature" (University of Chicago Press, 2006). She is a graduate of the University of California, Berkeley, and holds a Ph.D. in American Studies from Yale University.
Goldsby's lecture is the final presentation in the 2009-10 Department of African American Studies Colloquium Series. The lecture is free and open to the public. Discounted parking is available in the Irving Garage for individuals who identify themselves as attending the event. For more information, and requests for handicapped-accessible parking, e-mail aas@syr.edu  or call 315-443-4302.