Health & Society
Brandon Steiner, founder and chairman of Steiner Sports Marketing, to speak at SU April 6
Among his major successes,  Syracuse University alumnus Brandon Steiner '81 has secured exclusive autograph deals for Derek Jeter, Joe Torre and Eli Manning, and numerous strategic partnerships with the most prestigious professional sports franchises in the world. Steiner, founder and chairman of Steiner Sports Marketing, is returning to SU to share his experiences on Tuesday, April 6, at 7 p.m. in Room 010 of Crouse Hinds Hall. The free event will include a book signing of Steiner's "The Business Playbook–Leadership Lessons from the World of Sports" (Entrepreneur Press, 2003).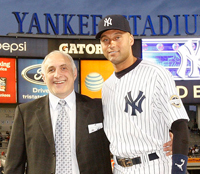 His presentation is sponsored by the David B. Falk Center for Sport Management in the College of Human Ecology. The SU Bookstore will have Steiner's book available for sale at the event.
An innovative partnership among Steiner Sports Marketing and SU's Department of Sport Management and Department of Athletics provides students with an unprecedented learning experience. The student-run operation, known as Syracuse Steiner Sports Collectibles, obtains, markets and sells one-of-a-kind SU athletic memorabilia, with students managing the business.
For more than two decades, Steiner has forged strategic partnerships with some of the most prestigious professional sports franchises in the world, including the New York Yankees, Boston Red Sox and Dallas Cowboys. Game-used collectibles and fantasy experiences with these and other storied teams have been the benchmark for these partnership successes. 
The largest company of its kind in the United States, Steiner Sports Marketing's collectibles inventory includes more than 10,000 items, and the company currently maintains relationships with more than 5,000 professional athletes over many decades in virtually every sport. What started as a one-man operation has grown into a booming, 80-plus employee, $50-million enterprise. For more information about the event, contact the Department of Sport Management at 443-9881. 
Steiner's visit is also part of a guest speakers' series throughout the year for students in the Sport Management Club, a student-run organization founded in 2005 that has nearly 100 members and has raised more than $100,000 for local charities. The SPM Club was recognized with a 2009 Chancellor's Award for Public Engagement and Scholarship and most recently received the 2009 Orange Circle Award from the SU Alumni Association to honor SU alumni, friends, faculty, staff and students who have achieved extraordinary accomplishments in support of others.