Arts & Culture
August Wilson's 'Fences' opens May 5 at Syracuse Stage
Pittsburgh, 1957. Troy Maxson, ex-ballplayer, complicated African-American family man and garbage collector has lived a life of diminished hopes and abandoned dreams. Now Troy's talented son, Cory, has hopes and dreams of his own. Will Troy allow his bitterness about the past to poison his son's promising future? With a view toward a better future, August Wilson first posed this dramatic and necessary question 25 years ago when "Fences" premiered at Yale Repertory Theatre. The play went on to win a Tony Award and the Pulitzer Prize.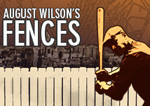 With a cast featuring top Broadway performers as well as local talent, and costumes design by August Wilson's widow Constanza Romero, Syracuse Stage's Producing Artistic Director Timothy Bond directs this special 25th anniversary production, running May 5-30 at Syracuse Stage. Tickets can be purchased online at http://www.SyracuseStage.org, by phone at (315) 443-3275, or in person at 820 E. Genesee St.
Syracuse Stage season sponsors are The Post-Standard and Time Warner Cable. Sponsors for "Fences" are the National Endowment for the Arts, the Reisman Foundation and Chase. Media sponsors are Urban CNY, WAER and WRVO. "Fences" is a co-production with Seattle Repertory Theatre, where it ran March 26-April 18 to critical acclaim.
The professional acting company includes six actors, led by Broadway veteran James A. Williams (as Troy), who appeared in the original New York production of August Wilson's "Radio Golf." Rounding out the professional cast is Craig Alan Edwards (as Gabriel), Seattle-based actor William Hall Jr. (as Jim Bono), regional theater actor José A. Rufino (Lyons), theater and film actress Kim Staunton (Rose), and New York City-based actor Stephen Tyrone Williams (Cory). Playing the role of Raynell, Troy's daughter, is local 7-year-old actress Yemurai Tewogbola. Understudying the role of Raynell is local 8-year-old Alexis Simmons.
Wilson's widow, Constanza Romero, requested that Timothy Bond direct this production to appear in Syracuse and Seattle (where Wilson spent much of his life). Bond, who had previously turned down opportunities to direct "Fences," felt now was the right time.
"There's something about the age of the character (Troy Maxson is 53, slightly older than Bond) and something about having a teenage son that makes this play feel very close to my heart," Bond explains. "Maybe it's because I have a teenage son and at the same time I'm caring for an aging father. That father/son connection is very powerful for me."
With Bond on the project, Romero agreed to design costumes for this production, in addition to having already agreed to design costumes for the currently running 2010 Broadway revival.
"Fences" is Wilson's most acclaimed work, the recipient of the 1987 Pulitzer Prize for Drama, the 1987 Tony Award for Best Play, the 1987 Drama Desk Award for Outstanding New Play and the 1987 New York Drama Critics Circle Award for Best Play.
"Fences" continues Bond's commitment to complete Wilson's 20th Century Cycle of plays. To date, Syracuse Stage has produced "Fences" (1991), "The Piano Lesson" (1996), "Jitney" (2002), "Gem of the Ocean" (2007) and "Ma Rainey's Black Bottom" (2008). This leaves "Joe Turner's Come and Gone," "Seven Guitars," "Two Trains Running," "King Hedley II" and "Radio Golf."
"These plays speak to how important roots are," Bond explains. "How important ancestors are, and we have to continue to celebrate our past and our history and our culture as a whole American people. We need to embrace all of our history. Don't forget where you came from."