Media, Law & Policy
Maxwell School to host April 28 screening of 'An Inconvenient Tax,' featuring Moynihan Professor Len Burman
A new documentary film, "An Inconvenient Tax," will be screened for the first time in Upstate New York at the Maxwell School of Syracuse University on Wednesday, April 28, at 4 p.m. in Maxwell Auditorium. The event is free and open to the public. Paid parking is available in the Irving Garage.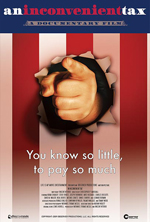 The film is a surprisingly engaging and entertaining look at one of America's messiest problems—a fundamentally broken tax code. While many Americans want something better, few understand the code or the vast extent to which it truly affects the country. "An Inconvenient Tax" looks at the history of the income tax and brings to light the causes of many of its complexities. It explains the ways in which Congress uses the tax code to achieve political goals that have nothing to do with raising revenue, and it tackles the controversial issue of tax reform through a presentation of U.S. tax history and current proposals to change the code.
To explore these problems and provide valuable insights on how to move forward, the nation's top economic experts, commentators and political voices tell the story, including the Maxwell School's own Leonard Burman; linguist Noam Chomsky; Forbes magazine publisher Steve Forbes; former Arkansas Gov. Mike Huckabee; U.S. Rep. Ron Paul; former IRS Commissioner Charles Rossotti; radio host Neal Boortz; and others.
From the early IRS propaganda films to the tax reform campaigns of Ronald Reagan, the film also uncovers redefinitions of income, the creation of corporate loopholes and even a brief moment in 1986 when Congress actually tried to simplify everything. But with more than 16,000 changes to the tax code in the last 20 years alone, Americans find themselves more beleaguered by tax complexity than ever.
"Given the enormous fiscal challenges, we will need a working tax system more than ever. But our tax code has become a Shakespearean tragedy: good intentions gone awry–delivered by pandering politicians; intrigue–sleaze ball lobbyists; and dark humor–for example, the chicken poop tax credit," says Burman.
The 90-minute film will be followed by a post mortem and question-and-answer session with Burman, who followed these issues closely during his 25 years in Washington. He had gone to D.C. to work on what became the Tax Reform Act of 1986, but then watched with chagrin as the tax code went steadily downhill after that singular policy triumph. He served as deputy assistant secretary for tax analysis in the Clinton Treasury Department and co-founded and directed the nonpartisan Tax Policy Center in Washington before coming to SU. He is currently the Daniel Patrick Moynihan Professor of Public Affairs at the Maxwell School and continues to be a regular commentator on the nation's tax system.