Campus & Community
Zipped forges partnership with Syracuse retailers to showcase local fashions to students
Zipped, the only fashion-focused print magazine on the Syracuse University campus, is partnering with Syracuse retailers to feature local merchandise in its Spring 2010 issue, strengthening the relationship between the University and the city through a common love for fashion. By working with local stores, Zipped strives to further the University's efforts in connecting the University Hill with the city, showcasing all that the city has to offer to Syracuse students.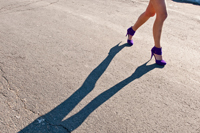 "Partnering with Syracuse stores introduces students to the fashions available locally, which we hope will help strengthen the connection between the students and the city," says Katy Ann Lyons, fashion editor of Zipped. "There really are some great finds to be found in the local stores, and featuring them in our publication is a step in the right direction, showing students what's available in hopes that they will take the next step and explore the city and all it has to offer—not only when it comes to fashion." (Photo by Ben Addonizio)
A number of Syracuse retailers welcomed the effort to connect Zipped with the local community and offered their support to the publication by lending their merchandise for the photo shoots. Local stores involved include Jet Black, Mr. Shop, Bounce, Joette's and Rhododendron.
The spring issue of Zipped hits the SU campus on April 15.