Campus & Community
Pulse Performing Arts Series to present 'Tish Oney–The Peggy Lee Project' at Syracuse University April 18
Celebrated vocalist and arranger Tish Oney, a 2001 and 2004 Syracuse Area Music Awards (SAMMY) nominee, will bring her nationally touring production "Tish Oney–The Peggy Lee Project" to Syracuse University on Sunday, April 18, as part of the 2009 season of the Pulse Performing Arts Series. The performance will take place at 4 p.m. in Grant Auditorium.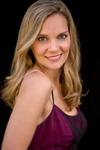 Tickets for the performance are required and cost $3 for students with SU I.D.; $10 for SU faculty, staff and alumni, and Pulse Partners; and $15 for the general public. Tickets can be purchased at the Schine Student Center Box Office; for more information, call (315) 443-4517. Free parking will be available in the Waverly, Marion, Lehman and Harrison lots.
Oney is the artistic director of three nationally touring productions, including "The Peggy Lee Project." She completed her doctor of musical arts degree in the field of jazz studies at the University of Southern California's renowned Thornton School of Music. "The Peggy Lee Project," resulting from Oney's dissertation research, features updated, contemporary jazz arrangements of original songs by singer Peggy Lee. Oney's collaboration with Lee's former music director and guitarist, John Chiodini, and his jazz trio has produced an unparalleled tribute to a prolific, but relatively underappreciated songwriter.
Oney's newest productions include "Swingin' Through the American Songbook" (a compendium of great jazz music spanning the 20th century and beyond) and "Jazz Seasons" (an eclectic jazz tour of the four seasons appropriate for any time of year). "The Season of Christmas" (Oney's holiday show) guides the audience down memory lane with jazz arrangements of their favorite seasonal songs.
Her latest CD, "Dear Peg," earned international recognition in WHLI Radio's Top 50 Releases of 2009 and attained 2010 Grammy Award consideration for "Best Jazz Vocal Album" and "Best Traditional Pop Album." Oney has performed and recorded with several noted jazz artists, including Les Brown, Donald Byrd, Bill Watrous, Bob Rozario, Bob Sachs, Ray Brinker, Mark Sherman, Ken Wild, Alan Steinberger, Joel Hamilton, Kendall Kay, Bob Leatherbarrow, Ron Anthony, Joe Riposo, Steve Brown, Bill Harris and George Reed.
Oney maintains a very active touring and recording career. Her singing has been featured internationally on both radio and television. In 2009, she embarked on a national tour to kick off the release of "Dear Peg," and she continues to appear as a touring vocal artist worldwide. Her jazz festival credits include Earshot Jazz Festival (Kirkland, Wash.), Syracuse Jazz Fest, Fulton Jazz Festival, Crystal City Jazz Festival and Jazz in the City.
A mainstay in the Los Angeles jazz scene, Oney was lauded in the 2008 book "The Jazz Singers: The Ultimate Guide" authored by jazz critic Scott Yanow. She has also been honored with The Diane Warren Award and a second initiation into national music honor society Pi Kappa Lambda. She holds a master's degree in voice performance from Ithaca College.
Pulse, presented by SU's Division of Student Affairs, provides SU undergraduates and, in turn, the Central New York community with out-of-classroom opportunities to attend and participate in programs, performances, exhibitions and events in the performing and visual arts. It is a model program, recognized for quality, diversity, innovation and collaboration, while it celebrates and expands the cultural climate of Syracuse University.
The Pulse series seeks to raise the caliber of cultural programming while increasing the number of participating students and programs the best offerings of local arts organizations with performances of internationally renowned visiting artists. For more information, visit http://pulse.syr.edu, e-mail pulse@syr.edu or call 443-2718.