STEM
Syracuse iSchool invites interested SU community members to hear about 2010 South by Southwest
South by Southwest (SXSW), an internationally known 10-day series of interactive media, film and music festivals being held March 12-21 in Austin, Texas, proclaims in its marketing materials "Tomorrow Happens Here."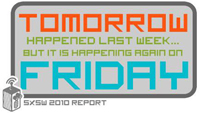 Since its beginnings in 1987, SXSW has been a place to push boundaries and explore new ideas. It's the place where Twitter was first introduced in 2007. And this year, it was the event that lured three SU School of Information Studies (iSchool) students to spend their Spring Break participating in cutting-edge thinking and innovation.
Having returned with a wealth of information and inspiration—not to mention a website full of tweets, blog posts and photos, students Shay Colson G'10, Kate Holloway G'11 and Andrew Farah G'11, along with fellow 2010 SXSW attendee and Central New York entrepreneur Sean Branagan, will share what they learned during a short presentation, followed by a discussion.
The iSchool invites all interested students, faculty and staff members to "Tomorrow Happened Last Week … But It's Happening Again Friday!" on Friday, March 26, from 4- 6 p.m. in the Innovation Studio, Room 011 in Hinds Hall.
From journalism and coding to social media and human capacity to produce and digest content, the students will share their experience and impressions from the whirlwind series of seminars, meetings, conferences and informal networking. They will also tell what the high-profile list of featured speakers predicted for the interactive media future, and detail some of the best new websites, games and startup ideas.
Light refreshments will be provided. Syracuse iSchool Dean Elizabeth D. Liddy will also announce a new related initiative open to the campus community.
Read up on the students' and Branagan's posts and tweets from SXSW at http://capesquared.com/sxsw/.