Campus & Community
Student-athletes to compete as performing artists
Members of the Syracuse Orange will showcase talents other than their athletic abilities on Tuesday, April 6, at the Student-Athlete Talent Show in the Schine Underground. The event gets under way at 7 p.m. and is sponsored by the Student-Athlete Advisory Committee (SAAC) and Otto's Army.
Tickets are available for $3 at the Schine Box Office and will be sold on the night of the event. Proceeds will benefit the Friends of Jaclyn Foundation (http://www.friendsofjaclyn.org).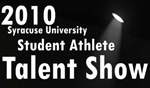 "This is a great opportunity for our student-athletes to show their creative side while helping to raise money and awareness for the Friends of Jaclyn Foundation," says director of student-athlete support services Kevin Wall. "The Student-Athlete Advisory Committee felt this event would be a fun way to see our student-athletes get together and compete in a different arena."
Co-hosting this night of athletes turned artists is campus TV and radio personality Mark Zito and women's lacrosse student-athlete Tee Ladouceur. Staff from the Department of Athletics will judge the contestants, and the winner will have the opportunity to perform at the annual 'Cuse Awards on April 29.
The talent show lineup includes duets performed by first-year student Samantha Hinz and sophomore Ashley Williams (volleyball); sophomores Taylor Metcalfe and Lisa Mullan (ice hockey); and sophomores Mary and Naomi Carlson (rowing). Dance pieces will be performed by junior Jarret Eaton (track and field) and senior Da'Mon Merkerson (football, track and field); and junior Mikela Almeida (rowing). Vocal acts, accompanied by a guitar, include sophomore Dan Vaughn (football) and graduate student Jay Hubbard (sports medicine).
The event will be recorded for later showing on the Orange Television Network (campus cable channel 2 and http://orangetv.syr.edu).