Arts & Culture
SU Library Associates to present 'The Political Fortunes of Robin Hood on the Late Elizabethan Stage' April 22
Syracuse University Library Associates will present its annual Mary Marshall Lecture on Thursday, April 22, at 5 p.m. in the Peter Graham Scholarly Commons, on the first floor of E.S. Bird Library, 222 Waverly Ave. Shakespearean scholar Jean Howard will speak on "The Political Fortunes of Robin Hood on the Late Elizabethan Stage."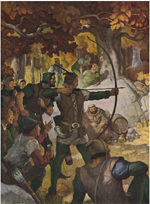 Howard will discuss the evolution of Robin Hood's character on the late Elizabethan stage, specifically how the many appearances in plays of the 1590s by Robin Hood–the legendary English outlaw, reputed to have robbed the rich and helped the poor–changed his meanings. Robin Hood was given roles in at least seven plays in this decade, five of which have survived; he was mentioned in many more, including Shakespeare's "As You Like It," and he influenced still more, including Shakespeare's "Henry IV" Part 1 and Part 2. 

Howard is the George Delacorte Professor in the Humanities and chair of the Department of English and Comparative Literature at Columbia University, where she teaches Renaissance literature, feminist studies and literary theory. She has served two years as president of the Shakespeare Association of America and has written four books on Shakespeare and four Companions to Shakespeare. She is also co-editor of "The Norton Shakespeare." Howard began her teaching career at SU. 
Mary Marshall, the first woman to become a full professor in the former College of Liberal Arts, taught English at SU from 1948-70 and then continued teaching at University College until 1993. She was a founding member of Library Associates. 
Following the lecture, a reception for Library Associates members will be held in the Syracuse University Bookstore. At the reception, members will receive 25 percent off general books and select collegiate apparel. 
The lecture is free and open to the public. Free event parking is available in the Booth Garage, on the corner of Waverly and Comstock avenues, one block from E.S. Bird Library. For more information, contact Kathleen White at 443-8782 or kswhite@syr.edu.