Parachute to headline second Bandersnatch show of spring semester
Parachute is set to headline the second show of the 2010 Bandersnatch Music Series with special guest White Picket Fence. The concert will be on Wednesday, April 7, in the Schine Underground. Doors open at 7:30 p.m., and music starts at 8 p.m. Tickets are available at the box office in the Hildegarde and J. Myer Schine Student Center (315-443-4517) and online at http://students.syr.edu/boxoffice/. Tickets are $5 for students with a valid SU I.D. and $10 for the general public (18+).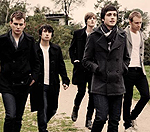 Parachute is a self-proclaimed mix of "full-throttle rock with dollops of blue-eyed soul, vintage R&B and melodic pop radio anthems in-the-making." The five-piece band released its debut album, "Losing Sleep," in June 2009. "Losing Sleep" peaked at No. 2 on the Billboard Digital Albums chart and No. 40 on the Billboard 200 chart. The album boasts songs that aim for popular appeal, and Parachute makes no apologies about it. Drummer Johnny Stubblefield says "[Lead singer Will Anderson] has always been good at writing radio-friendly pop songs." 
Parachute's first single off its debut album, "She Is Love," was used as part of a national TV campaign for Nivea. As part of the campaign, the band played before more than one million people on New Year's Eve in Times Square on the Nivea Countdown Stage in 2008.
Bandersnatch Music Series is a subdivision of University Union Concerts. University Union is the large-scale programming organization for the entire undergraduate population at Syracuse University.