Campus & Community
N.E.R.D. joins Drake in Block Party 2010 lineup
University Union (UU) has announced N.E.R.D. as the special guest joining K-OS, Francis and the Lights and headliner Drake for the annual Syracuse University Block Party concert on Friday, April 30, at 7 p.m. (doors at 6 p.m.) in the Carrier Dome.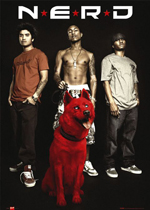 N.E.R.D. is a rock and hip hop band consisting of Shay Haley, Chad Hugo and music mogul Pharrell Williams. The group has released three full-length albums since it was formed in 2001. Its third album, "Seeing Sounds," was released in June 2008 and peaked at #7 on the Billboard 200 chart and #4 on the Billboard R&B/Hip Hop Album chart. "Seeing Sounds" features hit singles "Everyone Nose (All the Girls Standing in the Line for the Bathroom)" and "Spaz."
N.E.R.D. is known for exceptionally energetic and intense live performances. The group's fourth album, "Instant Gratification," is set to be released later this year.
Tickets for Syracuse University and SUNY College of Environmental Science and Forestry students will be available during an exclusive student online presale beginning Tuesday, March 9, at 10 a.m. and will run until 4:30 p.m. on Friday, March 12. Presale tickets will be available online only at http://suathletics.com on the main ticket page under Concerts & Events. Tickets are $15 (plus $3 convenience fee for the online presale) for SU and SUNY-ESF students. Student presale buyers will need their nine-digit SU/SUNY-ESF student I.D. number to gain access.
Student tickets will be located on three levels of the Dome's west end zone on a first-come, first-served basis in the following order: front stage reserved (gray area on map), general admission (red area on map) and second level reserved (blue area on map). Ticket orders will be based upon the date and time the order is placed via the online ticket ordering system.
Students will be allowed to order one time, with a limit of six tickets each. Mastercard, VISA, Discover and American Express will be accepted for online orders. Presale tickets must be picked up in person with each student's own SU/SUNY-ESF I.D. at the Carrier Dome Box Office (Gate B) on the following dates from 8:30 a.m.-4:30 p.m. only: Tuesday, April 13; Wednesday, April 14; and Thursday, April 15.
Tickets go on sale for the general public beginning Tuesday, March 16, at 10 a.m. and are available at the Carrier Dome Box Office and through Ticketmaster.com. Tickets for the general public are $25 (plus any processing fees for online purchase).
Bags, as well as cameras and/or recording devices, will not be permitted inside. There will be no re-entry.