Campus & Community
Marian Wright Edelman speaks on 'A Voice for Children' April 6 in University Lectures series
Marian Wright Edelman, founder and president of the Children's Defense Fund, will visit the Syracuse University campus on Tuesday, April 6, as a guest of The University Lectures series.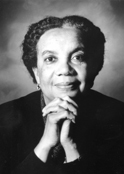 Edelman will speak on "A Voice for Children" at 7:30 p.m. in Hendricks Chapel. The event is free and open to the public; reduced-rate parking will be available in the Irving Garage. A sign language interpreter and CART will be available.
The lecture was rescheduled from the fall semester due to a conflict in Edelman's schedule. It is sponsored in cooperation with the Syracuse Symposium in The College of Arts and Sciences, the College of Human Ecology and the College of Law.
Edelman will also be honored at a breakfast sponsored by the YWCA in the Syracuse community on April 7.
Edelman has been an advocate for disadvantaged Americans for her entire professional life. Under her leadership, The Children's Defense Fund (CDF) has become the nation's strongest voice for children and families. The Leave No Child Behind® mission of the CDF is to ensure every child a Healthy Start, a Head Start, a Fair Start, a Safe Start and a Moral Start in life and successful passage to adulthood with the help of caring families and communities.
Edelman began her career in the mid-1960s when, as the first black woman admitted to the Mississippi bar, she directed the NAACP Legal Defense and Educational Fund office in Jackson, Miss. She served as counsel for the Poor People's Campaign in Washington, D.C., founded the Washington Research Project, and served as the director of the Center for Law and Education at Harvard University for two years. Her work has earned her numerous awards, including the Presidential Medal of Freedom.
A prolific author, Edleman's latest book, "The Sea is So Wide and My Boat is So Small: Charting a Course for the Next Generation" (Hyperion Books), was released last fall.
Now in its ninth season, University Lectures is a cross-disciplinary lecture series that brings to the University individuals of exceptional accomplishment. The series is supported by the generosity of the University's Trustees, alumni and friends. The lectures are free and open to the public.
Remaining lectures in the 2009-10 season are Nobel laureate and poet Seamus Heaney (April 13) and world-renowned photographer and documentarian Annie Leibovitz (April 29).
The Office of University Lectures welcomes suggestions for future speakers. To recommend a speaker, or for additional information about University Lectures, contact Esther Gray in the Office of Academic Affairs at 443-2941 or eegray@syr.edu. More information can be found at the University Lectures website, http://lectures.syr.edu.