Arts & Culture
Program to explain local, spiritual origins of lacrosse
Central New York dominates the lacrosse world at many levels, yet few understand the local roots of the game. On Monday, April 5, at 7 p.m. at Syracuse Stage, Central New Yorkers can learn the background of this increasingly popular sport and its spiritual role among the Onondaga and other Haudenosaunee people. Featuring Onondaga faithkeeper and Syracuse University All-American lacrosse goalie Oren Lyons and former SU player and coach Roy Simmons Jr., the program is part of the Onondaga Land Rights & Our Common Future series.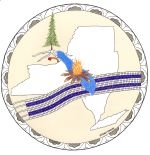 "When you talk about lacrosse, you talk about the lifeblood of the Six Nations," says Oren Lyons. "The game is ingrained into our culture, our system and our lives."
"We are delighted to bring sports into this series," says series organizer Andy Mager. "We hope that many who play and follow lacrosse will come to deepen their knowledge of what it means to those who invented it."
Lyons is faithkeeper of the Onondaga Nation Turtle clan and has been a clear, persistent and respected voice for the Onondaga, the Haudenosaunee and Indigenous people throughout the world. Lyons was an All-American lacrosse goalie at SU in 1957 and 1958, and serves as honorary chairman of the Iroquois National Lacrosse Team.
Simmons has dedicated much of his life to the SU men's lacrosse team as both player (1956-58) and coach (1971-1998). He led the team to 16 straight Final Fours and six NCAA national championships. In 2009, Simmons was awarded the Tewaaraton Spirit Award, which recognizes exemplary dedication to the sport of lacrosse, as well as a significant contribution to society.
The Onondaga Land Rights & Our Common Future series consists of 13 programs throughout 2010 and is coordinated by Neighbors of the Onondaga Nation. Co-sponsors include 12 major educational institutions–led by Syracuse University, the SUNY College of Environmental Science and Forestry, Le Moyne College and SUNY Empire State College–as well as several community organizations.
Admission to this event is free. A reception and facilitated small group discussions will follow the presentation. For more information, including the full series schedule, see http://www.peacecouncil.net/noon or call (315) 472-5478.