Campus & Community
JPMorgan Chase CEO Jamie Dimon to deliver 2010 Syracuse University Commencement address
Jamie Dimon, chairman and chief executive officer of JPMorgan Chase & Co., will deliver the Commencement address to the 2010 graduates of Syracuse University and the SUNY College of Environmental Science and Forestry (SUNY-ESF) during joint Commencement exercises on Sunday, May 16, in the Carrier Dome. At the ceremony, Dimon will be presented with an honorary degree from the University.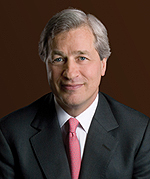 Named to the "2009 TIME 100" list, Time Magazine's annual feature on the world's most influential people, Dimon is one of the most respected leaders in the financial industry, maintaining JPMorgan Chase as a global leader in financial services throughout the recent bank crisis, while demonstrating leadership focused on a sense of corporate and social responsibility.
"We are honored to have Jamie Dimon speak to our graduates," says SU Chancellor and President Nancy Cantor. "Mr. Dimon is widely respected for his leadership and knowledge in the financial world and his focus on creating global innovations.  He has been a major voice in the global economy and its recovery and continues to play a critical role for our nation's government and business leaders by providing informed opinions and knowledge about the nation's banking industry and regulations. Our graduates will truly benefit from hearing Mr. Dimon's perspectives as they leave us to go out and make an impact locally and globally, putting to use their Syracuse education, rooted in real world lessons and experiences."
"It's a great honor for me to deliver this year's Commencement address and to receive an honorary degree from Syracuse University," says Dimon. "I have a great deal of respect for the University, and some of JPMorgan Chase's best executives hold a Syracuse degree.  Our company traditionally has had a strong, close relationship with Syracuse University, and we have expanded it even further recently with our collaboration on a new jointly designed Global Enterprise Technology academic program. Through this work together, we are learning how to address some of the most pressing challenges faced by global organizations."
Dimon began his financial career at American Express Co. and would go on to hold various senior executive positions at Citigroup Inc., its subsidiary, Salomon Smith Barney, and its predecessor company, Travelers Group Inc.
In 2000, Dimon was named chairman and CEO of Bank One. During his four years with the company, he engineered a dramatic turnaround, taking the bank from a half-billion-dollar loss in 2000 to record earnings of $3.5 billion in 2003. Following Bank One's July 2004 merger with JPMorgan Chase, Dimon became JPMorgan Chase's president and chief operating officer. He has been president and CEO of JPMorgan Chase since December 2005 and was named chairman of the board in December 2006.
Since June 2007, JPMorgan Chase and Syracuse University have been engaged in a wide-ranging collaboration that models a new way for universities and global corporations to work together for mutual benefit and the public good. Characterized by profoundly cooperative projects that draw expertise seamlessly from both organizations, the collaboration includes a new, jointly designed academic program in Global Enterprise Technology (GET), the creation of an Extended Internship Program for students, and the launch of applied research projects that deal with important issues facing global organizations. These activities are providing faculty members with truly unique research and teaching opportunities and preparing students for the world in the world. The collaboration also is bringing hundreds of jobs to the local economy through the JPMorgan Chase Technology Center at SU, opened in October 2009. It is a multidisciplinary hub on campus where students and faculty work side-by-side with JPMorgan Chase professionals.
Dimon is a graduate of Tufts University and received an M.B.A. from Harvard Business School. He is a director of The College Fund/UNCF and serves on the board of directors of The Federal Reserve Bank of New York, The National Center on Addiction and Substance Abuse, Catalyst and Harvard Business School, and is a member of the Board of Trustees of the New York University School of Medicine.
Each year, the Commencement speaker is chosen through an annual selection process that gives students and others in the University community the opportunity to offer speaker suggestions via a website.  A student committee–composed of the senior class marshals, the student marshals from each of the University's schools and colleges, and the student representatives to the University's Board of Trustees–reviews all potential speakers. Following a thoughtful deliberation process, that group presents a final list of suggested speakers to the Chancellor, who reviews the list and selects an appropriate speaker. Dimon was among those at the top of the student selection committee's final list, and when approached by the University, he agreed to address the Class of 2010 graduates.
The University Senate Committee on Honorary Degrees reviews all honorary degree nominations and recommends final candidates to the full University Senate, which makes the final decisions. The selection of Dimon to receive an honorary degree was approved by the Senate this spring.
For updated information on Commencement Weekend 2010, visit http://commencement.syr.edu/.
About Syracuse University
Chartered in 1870 as a private, coeducational institution of higher education, Syracuse University is a leading national research university of more than 18,000 full- and part-time students from all 50 states and 90 countries, and more than 1,400 faculty members. SU is propelled by the bold idea of Scholarship in Action—education that is not static, but the living expression of insight that drives change. It is a place where students become leaders, teachers and collaborators and where the community is continually impacted by the energy of new ideas. For more information about SU, visit http://www.syr.edu.
About JPMorgan Chase
JPMorgan Chase & Co. (NYSE: JPM) is a leading global financial services firm with assets of $2 trillion, operations in more than 60 countries and more than 220,000 employees. JPMorgan Chase is a leader in investment banking, financial services for consumers, small business and commercial banking, financial transaction processing, asset management and private equity. The firm serves millions of consumers in the United States and many of the world's most prominent corporate, institutional and government clients under its JPMorgan and Chase brands.