Campus & Community
Bassist Shayna Dulberger to headline next Coltrane Memorial Contemporary Jazz concert, April 2 at CFAC
The John Coltrane Memorial Contemporary Jazz Series continues with a free concert by upright bassist Shayna Dulberger, with drummer/percussionist Warren Smith and non-Western wind instrument specialist William Cole, on Friday, April 2, at 7 p.m. in the Community Folk Art Center's Black Box Theater-Dee Davis Room, 805 E. Genesee St., Syracuse.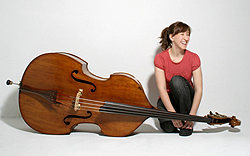 Coordinated by Cole, professor and chair of the Department of African American Studies in Syracuse University's College of Arts and Sciences, the Coltrane Jazz Series is sponsored by SU's Office of the Chancellor, the Department of African American Studies and the iLearn Program in The College of Arts and Sciences.
According to Dulberger, the evening will be a creative approach to world music, jazz and improvisation, and the audience can "expect spontaneous group improvisations with underlying grooves that occasionally surface." The trio has performed locally and in the New York City area with Bill Cole's Untempered Ensemble since 2007.
Dulberger has been playing bass since she was 13 years old. She attended Manhattan School of Music's preparatory division during high school and graduated with a bachelor of music degree in jazz from the Mason Gross School of the Arts at Rutgers University.
Smith and Cole have been creating music together since the 1970s.
Smith has led a varied career that includes groundbreaking work with singer Aretha Franklin, avant garde saxophonist Sam Rivers and jazz drummer Max Roach. One of Smith's earliest recordings dates from 1957, when he played marimba for Miles Davis. Since then, he has worked with some of the biggest names in jazz (including Count Basie, Quincy Jones and Charles Mingus) and rock (Janis Joplin and Van Morrison). Smith is a veteran Broadway pit artist who also has taught at the collegiate and scholastic levels; founded the Composers Workshop Ensemble and Max Roach's MBoom percussion ensemble; and run Studio Wis, a performing and recording space for young New York jazz artists.
Cole is founder of the Untempered Ensemble, an acclaimed seven-piece jazz group, and artistic director of Shadrack Inc., a multicultural organization that supports artists of color. As a performer, Cole has worked with such luminaries as saxophonists Ornette Coleman and Julius Hemphill, guitarist James "Blood" Ulmer and poet Jayne Cortez.  Cole specializes in Asian double reed horns, including Chinese sonas, Korean hojok and piri, and Indian shenai and nagaswarm, as well as Ghanaian bamboo flute, Tibetan trumpet and digeridoo. In addition to "John Coltrane," he is the author of "Miles Davis: The Early Years" (Da Capo Press, 1973) and "Miles Davis: A Musical Biography" (Morrow Quill Paperbacks, 1980).
More information about the concert is available by calling the Department of African American Studies at (315) 443-4302. More information about the artists is available at www.shadrack.org, www.myspace.com/miffmusic, and www.shaynadulberger.com.   
The John Coltrane Memorial Contemporary Jazz Series continues with bassist Gerald Veasley, with Smith and Cole (Friday, April 9); the William Parker Trance Quartet (Thursday, April 22); and the Untempered Ensemble with violinist Billy Bang (Wednesday, May 5).